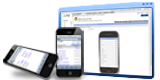 CRMnext Helps to Revamp CRM Strategies
New Delhi (PRWEB) October 17, 2013
CRMnext, the market leader in BFSI CRM solution helps top banks and insurance companies to revamp their CRM strategies with its cross-over consulting practice and cutting-edge CRM platform, enabling them realign their business strategies towards becoming more customers driven. Companies get detailed information pertaining to performance improvement, revenue acceleration and strategy alignment including cross selling models to increase sales and avoid customer churn. Their customers include HDFC Bank, TATA AIA, Reliance Capital, Max, Fullerton etc.
CRMnext consultants stress on the importance of best practices, process alignment and execution phases. They share a detailed plan on how to dramatically improve customer service, cut operational costs by re-designing business processes as per market best practices and market trends. This has helped CRMnext customers focus closely on satisfying customer needs, delivering value resulting in sustainable competitive advantage.
"Keeping your business current and adapting to the change in market trends is of utmost importance. Also, practice led consulting approach offered by CRMnext, adds great value to the value derived from CRM implementation backed by its vision, strategy and operations alignment."
About CRMnext:
CRMnext is a specialist Customer Relationship Management product company with focus on ultra-scalable installations. CRMnext team has proven track record of delivering High-Impact CRM solutions in their key practice vertical of Financial CRM, Banking CRM, Insurance CRM, Media CRM, Pharma CRM, Telecom CRM etc. Unlike commodity CRM, CRMnext has been widely recognized as a proponent of strategy driven implementations.
Know more about CRM Software by visiting to http://www.crmnext.com/.