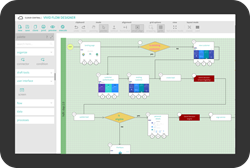 SAUSALITO (CA) (PRWEB) July 22, 2016
Financial companies are on the lookout for technologies to engage customers from the time they visit the website to checking out after fulfilling their needs. The technology they need should also be easily integrated into their existing infrastructure. To fulfill this demand, CRMNEXT, the World's #1 Commutable Cloud CRM solution, has deployed two powerful features, aptly named Vivid Journey Designer and Autonoma Integration Designer, which are included in their path breaking digital CRM solution.
Vivid Journey Designer allows financial organizations to execute seamless Omni-channel strategies with an intuitive designer. The new designers helps to create customer engagement journeys that are customized and offer instant fulfilment. The digital channels of customer engagement, apart from opening new revenue opportunities, also helps financial companies create low cost sales and service channels. For example, banks can now offer financial products like credit cards, auto or personal loans etc. online without need of manual interventions.
Integrations in BFSI organizations are complex with legacy application challenges. Autonoma Integration tool makes it easier by offering code-less configuration capability wherein users can easily create integration jobs using pre-built patterns and visual designers.
Speaking about the new features, Dr. Manoj Kumar, Chief Product Architect at CRMNEXT, said," Vivid journey and Autonoma Integration designers help BFSI customers to execute business processes faster and visually engage customers for end-to-end sales and service journeys. Autonoma designer is especially powerful in fetching information from external sources and displaying real time error alerts."
CRMNEXT has been credited with having three of the world's largest five CRM installations. Over the past decade, it has been closely working with three of India's leading private banks – HDFC Bank, Axis Bank, ICICI Bank, top Insurance companies like Max Life Insurance, along with financial institutions like Bajaj Auto Finance, for providing customized solutions. The platform has enabled these organizations to experience seamless sales and service management, Reporting and Analytics, and deep knowledge management.
Results have been quite a testimony to CRMNEXT's depth and ability. Deployed at HDFC Bank for the past 8 years, it has resulted in a 52% increase in the service quality and 200% improvement in the Sales Turn-around Time (TAT). At Bajaj Auto Finance it has implemented a digital loan origination system with automated-underwriting and decision-making available at all dealer locations. This has enabled to complete the loan approval process in less than 3 minutes, delivering faster sales and a hassle free, seamless experience to the customers. CRMNEXT believes that similar tools will impact the entire financial business ecosystem by redefining customer interactions while necessitating new innovative internal processes and employee skills to support these interactions.
About CRMNEXT:
CRMNEXT is the No.1 Commutable Cloud customer relationship management solution company. It is available on both, public cloud and private cloud, providing a flexible ownership model as per business needs. It has many successful implementations of 40,000+ users each making it the preferred choice solution for large enterprises looking to create a common strategy execution platform.
CRMNEXT has established technology and practice leadership in multiple industry verticals to help its customers boost profitability by improving all customer related processes. Gartner recognizes CRMNEXT as a leading niche player in Sales force automation, Service Management and Lead Management. It has set benchmarks in the CRM industry with innovations like Autobot Upgrades TM, Autonoma Integration TM and Commutable Cloud TM which has brought paradigm shift in the implementation, total-cost-of-ownership (TCO) of CRM solutions.
It is committed to make digital journeys of its customers, simpler and profitable through disruptive innovations. For more information, visit: http://www.crmnext.com