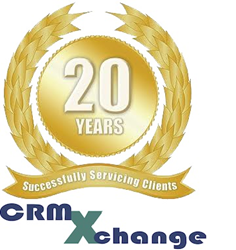 SARASOTA, Fla. (PRWEB) October 08, 2018
CRMXchange, celebrating over 1000 online webcasts and a leading online information resource for customer care/contact center professionals, announces a series of free educational events to address these vital issues. The schedule includes webcasts on topics such as AI, Strategic Planning, WFO and Upcoming Trends.
October 16 - How to Build a Flexible Scheduling Plan for the Future– Presented by NICE
Change happens in the blink of an eye. Businesses have to respond quickly. However, there is still a critical need to plan for the future and possible choices need to be modeled to create the most accurate and efficient workforce plan for the contact center.
Join this webcast as we discuss options to strategic planning solutions and the pros and cons for each. We'll discuss options from excel spreadsheets to tools that use modeling and artificial intelligence. We will also discuss the ability to perform comprehensive what-if scenarios.
October 18 - Innovations and Trends in Customer Service – Presented by Calabrio, NICE, Sharpen
Customers believe that they are entitled to consistently competent and more personalized service. Agents want to be more empowered to make decisions based on more information about their customer. This roundtable discusses trends that are optimizing customer support. You will hear:
-- Future tools to provide agents with everything they need to be very successful, working within their own strengths and opportunity areas, to ensure that end customers have excellent experiences.
-- Why agent empowerment is widely discussed and generally agreed-upon as a crucial part of contact center improvement.
-- Practical ways contact center leaders can get real about coaching, and the benefits they can expect to see.
-- How omni-channel analytics can deliver insights to help improve your customer experience.
-- How contact centers are using workforce engagement strategies to improve customer service.
October 25 - What Can Contact Centers Expect from AI? – Presented by Fonolo
Although AI is having a profound influence in many applications, its impact on the contact center industry is still unclear. Will it improve self-service tools? Will it help reduce costs? Will it lower the need for agents? These are crucial questions for people managing call center budgets and planning. Sadly, much of the information available today is skewed by journalists looking for clicks or vendors looking for customers. In this one-hour webinar you'll get an unbiased take on how AI will impact contact centers and customer service.
October 29 – November 9 "Best Practices in Workforce Optimization" Produced by QATC, SWPP, CRMXchange
Register today and learn from industry thought leaders - all without leaving your office. No travel is necessary to connect with the most knowledgeable people in the business. Simply log on during the conference and attend any or all of the 16 live webcasts that are most valuable to you. Topics discuss workforce management, speech analytics, quality assurance, coaching and performance optimization. Win prizes -- just by visiting the virtual booths -- and download the 'SWAG BAG', a curated compilation of ebooks, infographics, studies and white papers. FREE
About CRMXchange
CRMXchange is the premiere destination for information on customer relationship management solutions, including customer interaction best practices, CRM programs, training, and other valuable industry resources. To view the full schedule of upcoming webcasts for the year and to register for individual sessions, visit http://www.crmxchange.com/call_center_webcasts.asp