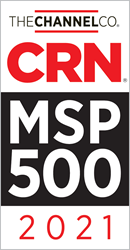 You guys are the best. Period.
NEW YORK (PRWEB) March 16, 2021
ManhattanTechSupport.com, a multiple award-winning technology partner for SMBs and enterprises in New York and Florida, announced today that CRN®, a brand of The Channel Company, has named ManhattanTechSupport.com to its 2021 Managed Service Provider (MSP) 500 list in the Pioneer 250 category. The list, released annually, recognizes the leading North American solution providers that have demonstrated innovative and forward-thinking approaches to managed services. These services help end users improve operational efficiencies and navigate the ongoing complexities of IT solutions while maximizing their return on IT investments.
With cutting-edge approaches to delivering managed services, MSPs have become an integral part of the success of businesses worldwide. They help empower organizations to leverage complex technologies, keeping a strict focus on their core business without straining their budgets. CRN's 2021 MSP 500 list identifies the market's key managed services players who are setting themselves apart with best-of-breed solutions that provide the business outcomes customers need.
The MSP 500 list is divided into three sections: the MSP Pioneer 250, recognizing companies with business models weighted toward managed services and largely focused on the SMB market; the MSP Elite 150, recognizing large, data center-focused MSPs with a strong mix of on-premises and off-premises services; and the Managed Security 100, recognizing MSPs focused primarily on off-premises and cloud-based security services.
"Effective MSPs enable companies to focus on their core objectives while improving the quality and reliability of their cloud computing capabilities," said Blaine Raddon, CEO of The Channel Company. "The solution providers on CRN's 2021 MSP 500 list deserve recognition for their innovative and forward-thinking approaches to managed services, and the ability to optimize operational efficiencies and systems to maximize return on investments."
"We're absolutely thrilled to once again be recognized by CRN as a member of the prestigious MSP Pioneer 250 category," said Christian Ugolini, Partner, and Cofounder. "Years before the pandemic hit, ManhattanTechSupport.com had shifted focus to leveraging cloud technologies to minimize our clients' local infrastructure footprints. Following our recommendations for mobility and accessibility, they began replacing antiquated desktop workstations with more versatile laptops. This meant when COVID hit, and NYC was completely shut down, our clients were already well-positioned for the new work-from-home routine – and in most cases – did not skip a beat. It's this type of forward-thinking that ensures our clienteles' success, solidifies their trust in our being their full-service technology partner, and keeps us at the forefront as a best-in-class Managed Service Provider."
The MSP 500 list will be featured in the February 2021 issue of CRN and online at http://www.CRN.com/msp500.
About ManhattanTechSupport.com LLC
ManhattanTechSupport.com LLC is a multiple award-winning full-service technology partner for SMBs and enterprises in New York City and Southern Florida. The firm specializes in managed IT services, including cutting-edge cybersecurity and digital transformation solutions to help businesses increase productivity, stay safe from cyberattacks and foster growth through the efficient use of technology. Distinguished in the industry for world-class customer service and 24/7 availability, ManhattanTechSupport.com offers companies the full breadth and depth of a sophisticated IT department for one flat monthly fee with no contracts ever. The firm's innovative technology solutions and IT experts continue to create sustained value for its clients through various strategies and initiatives tailored to propel SMBs and enterprises into the future.
About The Channel Company
The Channel Company enables breakthrough IT channel performance with our dominant media, engaging events, expert consulting and education, and innovative marketing services and platforms. As the channel catalyst, we connect and empower technology suppliers, solution providers and end users. Backed by more than 30 years of unequalled channel experience, we draw from our deep knowledge to envision innovative new solutions for ever-evolving challenges in the technology marketplace. http://www.thechannelcompany.com
Follow The Channel Company: Twitter, LinkedIn, and Facebook.
© 2021. CRN is a registered trademark of The Channel Company, LLC. All rights reserved.
The Channel Company Contact:
Jennifer Hogan
The Channel Company
jhogan@thechannelcompany.com