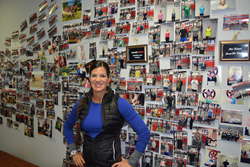 With Sonitrol monitoring my business 24/7, I can sleep at night knowing that what I've worked so hard for all these years is well protected. Pam Torrence, Owner, CrossFit Fishers.
WESTMINISTER, Colo. (PRWEB) August 15, 2018
3xLOGIC, Inc., a leading provider of integrated, intelligent security solutions, and a three-time Deloitte Technology Fast 500™ winner, today announced that CrossFit Fishers (IN) has completed installation of a 3xLOGIC-innovated Audio and Video Management system, backed by around-the-clock monitoring performed by Sonitrol.
The integrated audio and video functionality is the centerpiece of the recently-introduced Sonitrol TotalGuard™ package. The TotalGuard™ solution consists of one or multiple Sonitrol Multi-Sensors that act as a standalone IoT panel. The Multi-Sensor, innovated by 3xLOGIC, is a cube style, 2MP camera that goes far beyond just an IP video camera. For CrossFit Fishers, the TotalGuard™ solution is comprised of 3 Multi-Sensors that also monitor perimeter doors via wireless door contacts. In addition to impact-activated audio intrusion and motion detection, TotalGuard™ also records video to the onboard SD card, with full search capabilities and playback. A true all-in-one product, TotalGuard™ is a feature-rich solution that uses multiple technologies to deliver unmatched facility protection with built-in impact activated audio, video verification and recording, PIR, and glass break detection—all controlled via the Sonitrol Mobile App
Pam Torrence and her husband have owned CrossFit Fishers for nine years. They service a clientele of 130 workout enthusiasts, ranging in age from 15 to 60. The facility has a standard size office and a front entrance with full glass windows. The workout part of the building is large, with 26-foot high cement walls in what resembles a warehouse space. Total facility size is approximately 7,800 sq. ft.
"Recently, nearby businesses have been broken into and when front doors are not being monitored, intruders have been going through our customer's personal effects and stealing items," related Pam Torrence. "We wanted to provide protection for our office space and for our customers' belongings. We also wanted a safe environment for our customers and staff, but I was reluctant to purchase a security system given how large our facility is. Being a small business owner, I just didn't think we could afford it, and I really couldn't handle the downtime for a long installation and training period."
Torrence continued, "The TotalGuard™ system installation was done quickly and efficiently, and within just five minutes I was able to navigate the Sonitrol mobile app all the way through. Other solutions we considered had multiple panels, and we would need a server. With Sonitrol and 3xLOGIC, it was all in one, everything within the camera, quick installation and no big upfront costs."
Three Multi-Sensor devices provide Crossfit Fishers with complete volumetric coverage, total video and audio intrusion coverage, and the system was installed and up and running in less than four hours. The Total Guard Solution, building on 3xLOGIC innovation, is the most powerful commercial feature set at a price that fits the budget for even the smallest business owners. Total ease of installation is achieved by developing an automated, cloud-based programing tool. Just a simple scan of a QR code from a smartphone and installation is virtually complete!
"With Sonitrol monitoring my business 24/7, I can sleep at night knowing that what I've worked so hard for all these years is well protected," Pam Torrence, CrossFit Fishers.
About Sonitrol
Sonitrol is the industry leader in verified electronic security and provides customers with a single source of integrated security solutions for intrusion, video, access and fire. Sonitrol's ability to verify intrusion, through patented technologies, in real-time offers unrivaled credibility with law enforcement. Sonitrol provides for some of the fastest police response times, lowest false alarm rates and the best apprehension record in the security industry.
For media inquiries or press interviews: Kaleigh.Burton(at)sbdinc(dot)com
To learn more, visit Sonitrol.com, or call 877-SONITROL
About 3xLOGIC
3xLOGIC Inc. has been a leading innovator in server and cloud-based security technology for 15+ years. The company is recognized for providing easy-to-use surveillance and business intelligence solutions that seamlessly integrate video, access control, and disparate data such as ATM, Point-of-Sale, analytics, and more.
3xLOGIC's video surveillance solutions are engineered for ease of installation, scalability and affordability combined with a managed services portfolio that enables integrators to effectively evolve from dealers to high-value strategic partners. Follow 3xLOGIC on Facebook, Linked-in, or our Twitter account, and read our latest news at http://www.3xlogic.com
For 3xLOGIC Media Queries:
Bruce J. Doneff
Public Relations
843.476.3022
doneff(at)verizon(dot)net