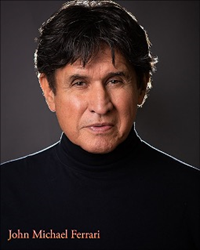 "A fun-loving, storytelling Nam Vet from Hollywood, CA, John Michael Ferrari pours out a whiskey-hued glass of Pop, Country, Gospel, Blues and Jazz in his music." Indie Music Plus
NASHVILLE, Tenn. (PRWEB) April 22, 2021
New Music Awards 2021 awarded Crossover Artist of the Year Award to multi-talented entertainer singer songwriter John Michael Ferrari.
Several tunes off Ferrari's recent album "Be the Smile on Your Face" are climbing radio charts. His songs weave together struggles and joys of love and other life experiences of his and others. Ferrari writes emotional story-telling cross-genre songs with touches of sophistication and child-like wonder. Country-Pop, Country-Jazz, Country-Blues, Country-Inspiration.
"Be the Smile on Your Face" album of 12 tracks was produced by Pepper Jay for the indie label, Cappy Records, recorded at Larry Beaird Studios, Nashville, and is promoted to radio by Loggins Promotion.
Recently, Ferrari was awarded Singer Songwriter of the Year 2019 (Producers Choice Honors), Peace Song of the Year 2020 for his song "Like a Rock and Roll Band" (Hollywood Tribute to the Oscars, Art 4 Peace), Rising Star (eZWay Golden Gala 2020,) and Triple A Album of the Year 2020. Awards are appreciated but per Ferrari there's no place he'd rather be than on stage because "There's never a stranger in the audience."
The New Music Awards is an honor given by New Music Weekly, a publication encompassing music charts within the music industry. The New Music Awards show had been held annually since 2003.
The New Music Awards determine nominations as a result of the highest votes received by open ballot by fans, music industry executives, radio personnel and industry insiders. The New Music Awards finalists are based on total votes. New Music Awards are given for the top finalist in each genre and category.
John Michael Ferrari is also a teacher of performance skills, the author of "Acting with Your Eyes", and co-author of "Dynamic Song Performance, The Singers Bible".