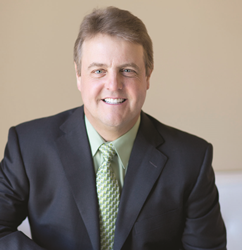 "Disruptive in ways that always put our patients' needs first," is how CEO and Founder Perry Farmer describes Crossroads. "Crossroads was built on the question 'Why not?' This helps us innovate and raise the bar over and over again."
TULSA, Okla. (PRWEB) September 01, 2020
"Thank you for helping us give MORE to our communities for 25 years." Those are the words printed on a Crossroads Hospice & Palliative Care (Crossroads) 25th Anniversary poster featuring a photo montage of employees.
While all 1,326 Crossroads employees scattered across 11 locations in seven states didn't make it on to the poster, they have reason to celebrate their excellence, albeit humbly as the global pandemic continues.
Founded 25 years ago today on September 1, 1995, there's a prevailing pioneering spirit throughout the organization that has served more than 120,000 hospice patients over 25 years.
"Disruptive in ways that always put our patients' needs first," is how CEO and Founder Perry Farmer describes Crossroads. "Crossroads was built on the question 'Why not?' This helps us innovate and raise the bar over and over again."
Within two years of its founding, Crossroads was already revolutionizing hospice care by lowering patient-to-staff ratios and providing more frequent patient visits through its Evenmore Care and Watch programs.
Over 25 years, a variety of differentiating patient programs were envisioned first by Farmer before being operationalized across the company footprint. Included are the Gift of a Day initiative, a program based on the concept, "If you had one perfect day, what would it look like?", the Life Journal, a keepsake gift of gratitude to families, and an unwavering dedication to recognize and appreciate US military Veterans.
Ever evolving, at the forefront of a national movement to incorporate palliative care in to patient care plans, in 2016, Crossroads introduced a palliative care service line and recruited an internationally renowned palliative care physician, Chief Medical Officer Dr. Timothy Ihrig, to build the program.
Also an extreme point of pride is the longevity of Crossroads' senior leadership team. More than 75% have been with Crossroads for more than 10 years. Nearly 25% have served Crossroads' patients between 20 and 25 years. This is in an industry where the workforce is shrinking, according to industry experts.
As Crossroads recognizes its 25th Anniversary, it is well-positioned to continue to evolve as a leading provider of end-of-life care. Its success will continue to be acknowledged not only by its peers in the industry but by the tens of thousands of patients and their families served.
About Crossroads
Crossroads Hospice & Palliative Care is committed to being at the forefront of the hospice care industry, continually shaping the way end-of-life care is viewed and administered. Crossroads' mission is to provide highly unique, comprehensive, and compassionate hospice services to persons experiencing a life-limiting illness and to their caregivers. Visit http://www.crossroadshospice.com for more information.