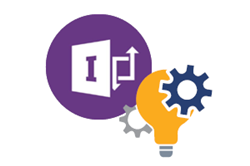 Simply put, InfoPath forms need to be replaced -- and Crow Canyon's InfoPath Replacement Manager helps get the job done.
BENICIA, Calif. (PRWEB) July 09, 2020
Crow Canyon Software announces the release of its InfoPath Replacement Manager, a tool that helps organizations of all sizes move off outdated InfoPath forms. Microsoft stopped development of InfoPath in 2013 and will end mainstream support next year.
With many companies now looking at InfoPath form conversion projects, Crow Canyon developed the InfoPath Replacement Manager to track and manage these efforts. The application is based on Crow Canyon's Project Manager and runs in both Microsoft Office 365 and SharePoint on-premises installations.
The tool treats each form conversion as a project that can be easily managed from the initial discovery phase through the form recreation process to the implementation of the new form. The Manager guides each step of the way, with sub-tasks, approvals, status checks, alerts and notifications, custom actions, and more, so that the team stays fully engaged and on track.
Critical information about each form, such as usage data, what group or department uses it, how critical it is to the business, if any modifications should be made, etc., can be entered into the application. This information gives the team the insights they need to both map out and undertake the form migration efforts.
By gathering data about each form in one place and then reviewing it, the team can decide how (or if) the form should be recreated in the new solution, whether it needs modifications, how much effort it will take to recreate it, and the timeline for doing that.
The form conversion can then be efficiently managed and tracked using the Replacement Manager. Note that the InfoPath Replacement Manager does not perform the actual form conversion. That is done using a tool such as NITRO Studio, Crow Canyon''s sophisticated forms and workflow creation platform for both SharePoint on-premises (2013, 2016, & 2019) and Microsoft Office 365.
NITRO Studio works in conjunction with the InfoPath Replacement Manager. The Manager holds the information about each form – who is responsible, what is its purpose, updates on the progress of the conversion, when it needs to ready, etc. NITRO Studio is used to create the actual forms and workflows and to get the form implemented and in use.
Organizations are realizing a simple fact: continuing with InfoPath means they are missing out on the new technologies available in modern form and workflow solutions. Cloud services, mobile responsive design, chatbots, and modern browsers came into prominence well after InfoPath forms were in vogue. Staying on InfoPath forms puts companies further and further behind the technological curve.
Crow Canyon's InfoPath Replacement Manager will greatly assist with an organization's efforts to move beyond InfoPath to new solutions.
Contact sales@crowcanyon.com for a free demo and more information.