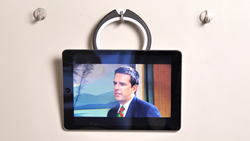 We're pleased to reach this point in our campaign and thank all our early-adopters on Kickstarter who are making Handle Plus a crowdfunding success.
HONG KONG (PRWEB) October 19, 2018
Handle Plus, the first true universal tablet accessory that works as a stand, a handle, a carrier and even a hanger for iPad, Surface Go, Samsung Galaxy, Lenovo or any popular tablet of any size, has broken its campaign goal – raising more than $10,000 on Kickstarter.
"We're pleased to reach this point in our campaign and thank all our early-adopters on Kickstarter who are making Handle Plus a crowdfunding success," said Karl Strepkoff, co-creator of Handle Plus. "These backers will be the first to enjoy the versatility of Handle Plus, which solves all the problems related to handling tablets and it is the only true universal solution in today's market."
A month remains in the introductory crowdfunding campaign for Handle Plus, an all-in-one solution that makes using a tablet as easy as it should be and, unlike other market solutions, can be switched between tablet devices in seconds.
Setting out to create the best accessory ever developed for tablets, Strepkoff and his team spent four years in trials and developing prototypes to create an extra-strength gel formulation for Handle Plus. The gel enables Handle Plus to stick to any smooth, flat surface with ease —time and time again.
"There are many tablet accessories on the market, but so far none have really solved the universality issue," he said. "Many accessories are designed with a one-stick, one-use backing that gives them a short lifespan and makes it impossible to use them more than once. However, Handle Plus can be used over and over whether you're snapping it to your tablet or your e-reader."
Features of Handle Plus include:

Universal fit as attaches to any tablet
Universal use as functioning as a multipurpose stand, handle, carrier and hanger
Comfort Hold
Travel-Sized
Interchangeability between devices
360° Rotation
Gel formulation
Secure
Sleek, Fashionable
Handle Plus combines all these features into one convenient device that can function in multiple ways, from a carry case to a stand.
"Attaching it is as simple as stick, press, and go—and once attached, it won't come off," Strepkoff added. "We're so confident about its gripping abilities that we include a one-year warranty with every Handle Plus."
For more information and to purchase at early-bird discounts during crowdfunding, visit The Handle Plus Campaign Page on Kickstarter.
About Handle Plus
Handle Plus is the result of an encounter between an engineer, Nicolas Liagre, and a dreamer, Karl Strepkoff, who met 15 years ago and built a partnership of trust and ingenuity through years of working together and bringing innovative new products to market. Nicolas Liagre and Karl's combined expertise encompasses everything from a master's Degree in mechanical engineering to over 10 years of award-winning entrepreneurial business ventures. They also share an understanding of the demands and logistics of every phase in the production process, and they also understand what consumers need —for life to be a little bit easier.