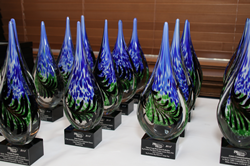 We continue to find that the most successful crowdfunding campaigns introduce products that offer an innovative solution, solving common problems for consumers.
TAMPA, Fla. (PRWEB) January 03, 2020
Public relations agency PRmediaNow helped crowdfunding clients raise more than $10 million in 2019, totaling over $75 million in presales for crowdfunders on Kickstarter and Indiegogo since 2013. The Tampa-based PR firm also received numerous public relations awards for crowdfunding PR along the way.
"We were excited to work with our long-time client partners, along with many new crowdfunders, who launched innovative products that benefit consumers," said PRmediaNow Principal Colin Trethewey. "Their success shows that crowdfunding continues to offer a viable product launch option for companies in attracting funding to take their products from idea to commercialization."
The firm's most funded products in 2019 included Baubax Travel Pants, which raised more than $3.2 million, the Nomatic Camera Bag, which has raised nearly $2.4 million to date, rolling travel luggage from Nomatic that has raised nearly $1.4 million, and travel shoes from Baubax, which have raised nearly $1.3 million in presales from crowdfunding backers.
"In 2019, travel-related products were in high demand among crowdfunding consumers, and travelers always seem to be willing to try out the newest, most innovative technologies to help them make their trips easier and as hassle-free as possible," Trethewey said. "We continue to find that the most successful crowdfunding campaigns introduce products that offer an innovative solution, solving common problems for consumers."
Some other notable PRmediaNow client campaigns in 2019 included Duotek, an ultra-light-weight, reflective and reversible jacket that raised nearly half a million dollars during crowdfunding, GoRelax, an acupuncture-based massage mat that raised nearly $250,000, and the Pix Mini, a kid's smart backpack that raised more than $200,000 through crowdfunding.
PRmediaNow also received several awards in 2019 from Public Relations Society of America (PRSA) for its PEEjamas Crowdfunding PR campaign, including:

2019 PRSA Radiance Award of Commendation for Media Relations Tactics
2019 PRSA Radiance Award for best news release writing
PRSA Tampa Bay PRestige Award for best media relations tactics
PEEjamas, stylish pajamas for kids that help during potty-training, raised more than $350,000 to become the most-funded kids clothing campaign in Kickstarter history.
For more information about PRmediaNow and the services it provides to crowdfunding and non-crowdfunding clients, visit http://www.PRmediaNow.com.
About PRmediaNow
Founded in 2008, Tampa-based PRmediaNow, LLC is a full-service public relations agency that focuses on securing media coverage for companies and their products. The firm, which prides itself on creativity, responsiveness and providing a high level of customer service to clients, creates media outreach campaigns that result in major mainstream media coverage and viral spread on social media and the Internet. PRmediaNow began assisting crowdfunding clients in 2013. In 2015, it led PR and media outreach for the record-breaking BauBax Travel Jacket Kickstarter Crowdfunding Campaign. The campaign raised $9.19 million, and BauBax became one of the most-funded Kickstarter products ever. For more information, e-mail info@PRmediaNow or visit www,PRmediaNow.com.