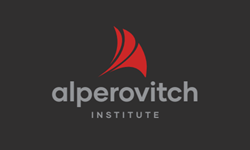 "Our nation's cyber problems at their core are geopolitical ones" Dmitri Alperovitch
WASHINGTON (PRWEB) October 22, 2021
CrowdStrike and Silverado Policy Accelerator co-founder Dmitri Alperovitch and Maureen Hinman and Johns Hopkins University School of Advanced International Studies (SAIS) recently announced the launch of the Alperovitch Institute for Cybersecurity Studies which will strive to become the preeminent academic institution producing paradigm shifting, impactful research and instruction at the intersection of cybersecurity, technology, intelligence and international affairs.
Led by director Dr. Thomas Rid, a leading globally recognized scholar in the cyber field, the Alperovitch Institute seeks to pioneer an innovative cybersecurity research program that cuts across disciplines and sectors, advance the policy debate in the nation's capital, and foster the cyber policy skills of the sector's workforce.
"Cyber-attacks are not just becoming more common – they are also becoming more sophisticated and dangerous with the potential to cause irreparable damage to our societies," said Johns Hopkins president Ron Daniels. "This new interdisciplinary institute will be dedicated from the start to generating new research on cybersecurity, statecraft, and public policy, as well as to training the next generation of cybersecurity scholars and experts to meet the threats of the future."
"Our nation's cyber problems at their core are geopolitical ones," said Alperovitch, a cybersecurity industry luminary with over twenty-five years of shaping the field. "The major adversaries we face — Russia, China, Iran, and North Korea —present global challenges across the entire spectrum of threats: diplomatic, economic, kinetic, and cyber. Better defenses are not sufficient to defeat cyber threats and tackling today's toughest cybersecurity challenges requires effective statecraft, driven by new skills and updated tradecraft. The creation of this Institute is an acknowledgement that we can't address any of these challenges in isolation. Successfully countering these threats require us going beyond the technical aspects of cyber, and mandates that we study our adversaries' unique motivations, capabilities, and histories."
In addition to welcoming remarks by Maureen Hinman and Dmitri Alperovitch, launch event speakers included The Honorable Alejandro Mayorkas, Secretary of Homeland Security (keynote); Dr. Mara Karlin, performing the Duties of Deputy Under Secretary of Defense for Policy (and a SAIS graduate); Ronald J. Daniels, President of Johns Hopkins University and others from the Alperovitch Institute.
Starting in September 2022, the institute will furnish a Master's program for full-time and part-time students to train the next generation of cross-sector leaders. The institute will offer a fully endowed PhD program to build the future bench of interdisciplinary educators and scholars in cybersecurity policy. In addition, the Institute will develop a compressed Executive Leadership program that will provide critical understanding of cyber issues to senior industry executives, Boards of Directors, Congressional staffers, government officials, and senior military and intelligence officers to enhance their acuity managing cybersecurity risks in their respective organizations.
The event was attended by more than 150 guests from over two dozen entities across the U.S. government, think tanks, corporations and other academic institutions.
Starting in 2023, the Alperovitch Institute will be housed in downtown Washington DC at 555 Pennsylvania Ave NW (the former Newseum building) once Johns Hopkins University moves its Washington, DC operations there.
For more information, please visit https://alperovitch.sais.jhu.edu/
Alperovitch Institute Twitter: @Alperovitch