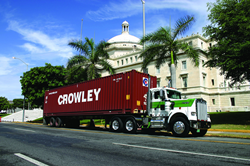 "Earlier this year, we surveyed our customers, and we heard loud and clear that they wanted us to add additional flexibility and velocity to their supply chains."
JACKSONVILLE, Fla. (PRWEB) January 09, 2019
Crowley Logistics announced today that it has expanded its North Atlantic network of vessels, adding velocity to customer supply chains operating between the Northeastern U.S., Puerto Rico, the Dominican Republic and the islands of the Caribbean Basin. Specifically, by adding additional capacity with the flat deck barge 455-4 to its rotation, Crowley will further stabilize its North Atlantic-Puerto Rico sailing schedule while increasing cargo capacity.
"Earlier this year, we surveyed our customers, and we heard loud and clear that they wanted us to add additional flexibility and velocity to their supply chains," said Steve Collar, senior vice president and general manager, Crowley Logistics. "This service enhancement further complements the significant investment we've made in the trade in the form of new ships and associated port upgrades. We've solidified Puerto Rico as a gateway to the Caribbean Basin."
Crowley's 455-4 flat deck barge is loading for its first southbound trip on Wednesday, Jan. 9, and arriving in San Juan on Jan. 16. This enhanced network of vessels allows Crowley to offer six southbound and northbound sailings per month between the northeast and San Juan. Additionally, a proprietary feeder service has been launched to seamlessly link Puerto Rico to the Dominican Republic and other islands of the Caribbean Basin.
Equipment to support this service expansion comes from Crowley's acquisition of new cargo containers and related equipment. Since 2003, the company has invested over a quarter of a billion dollars in new cargo equipment for its fleet. Today, the company operates more than 53,000 pieces of owned and leased intermodal equipment, including more than 19,500 chassis, 23,000 dry containers and 5,200 refrigerated containers. The equipment comes in a variety of sizes and are strategically located throughout the U.S, Central America and the Caribbean to ensure availability for Crowley's customers including those in Puerto Rico.
Crowley has served Puerto Rico since 1954, longer than any other U.S. shipping company.
About Crowley
Jacksonville-based Crowley Holdings Inc., a holding company of the 127-year-old Crowley Maritime Corporation, is a privately held family and employee-owned company that provides marine solutions, energy and logistics services in domestic and international markets. Crowley operates under four business units: Crowley Logistics, a singular ocean liner and logistics supply chain division; Crowley Shipping, which encompasses ownership, operations and management of conventional and dual fuel (LNG) vessels, including tankers, container ships, multipurpose, tugboats and barges; Crowley Fuels, a fuel transportation, distribution and sales division that also provides liquefied natural gas (LNG) and related services; and Crowley Solutions, which focuses on government services, including vessel management for government agencies, as well as engineering, project management, naval architecture through its subsidiary Jensen Maritime, and marine salvage and emergency response through its 50 percent ownership in Ardent Global. Additional information about Crowley, its subsidiaries and business units may be found at http://www.crowley.com.