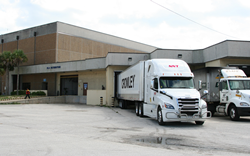 The expansion into the technology sector reflects how the DFTS program under Crowley can bring value and reliability to other Department of Defense (DoD) agencies.
JACKSONVILLE, Fla. (PRWEB) August 25, 2020
Crowley Solutions, a leading provider of high-quality supply chain services to the government, has expanded solutions to the U.S. Department of Defense's (DoD) technology sector, providing end-to-end services to help ensure hardware reaches warfighters around the globe.
Crowley's services now support DoD activities with major defense contractors and the semiconductor industry that produce advanced technology applications and hardware. The operations support all branches of the military, the Department of Homeland Security and other federal agencies and services.
As part of Crowley's expanded role serving the government, the Solutions team is executing "white glove" transportation and management solutions in the U.S. with 24/7 visibility, including less than truckload (LTL) and full truck load (FTL) services, and highly specialized movements, including air charter requests. In addition to utilizing a deep network of domestic carriers with diverse transportation capabilities, the DoD has access to Crowley's end-to-end services, including ocean transportation and Customs clearance, to ensure sensitive cargo reaches destination on-time.
Supporting the DoD supply chain for technology hardware increases the solutions that Crowley provides through the Defense Freight Transportation Services contract under the U.S. Transportation Command (USTRANSCOM), which supports the Defense Logistics Agency and other agencies and commands. Under that agreement Crowley provides the Defense Department and government agencies, customers and vendors a single touchpoint for transportation services. The freight-all-kinds (FAK) contract encompasses all forms of surface transportation throughout the continental U.S., Alaska and Canada. This includes LTL, FTL, expedited, time-critical and rail services.
"The expansion into the technology sector reflects how the DFTS program under Crowley can bring value and reliability to other Department of Defense (DoD) agencies," said Patrick Wallace, Crowley vice president of government supply chain services. "We appreciate the trust the Defense Department has shown in Crowley's ability to tailor and execute quality, specialized services with high transparency and flexibility."
"Knowing the DoD had unique supply chain requirements, Crowley collaborated with the military to design and execute specialized services that meet the needs of the microelectronics agency. The result was a full-service, dependable solution that gives the DoD visibility from end-to-end in the transportation of cargo," said David Touzinsky, Crowley's director of customer accounts, who assisted in the expansion.
About Crowley Solutions
Crowley Solutions provides global supply chain solution services including truck, rail, air, and ocean transportation as well as global freight forwarding; maritime solutions comprised of naval architecture and marine engineering services, vessel management, chartering, towing, port and range operations, and foreign military sales; energy services including petroleum storage, distribution by sea and land, fuel over the shore and liquefied natural gas solutions, and technology solutions that move customers to the forefront of transportation management, data analysis, automation and cyber security.
About Crowley
Jacksonville-based Crowley Holdings Inc., a holding company of the 128-year-old Crowley Maritime Corporation, is a privately held family- and employee-owned company that provides marine solutions, energy and logistics services in domestic and international markets. Crowley operates under four business units: Crowley Logistics, a logistics supply chain division that includes ocean liner services; Crowley Shipping, which encompasses ownership, operations and management of conventional and dual fuel (LNG) vessels, including tankers, container ships, multipurpose, tugboats and barges; engineering; project management; and naval architecture through its subsidiary Jensen Maritime; Crowley Fuels, a fuel transportation, distribution and sales division that also provides liquefied natural gas (LNG) and related services; and Crowley Solutions, which focuses on global government services and program management, government ship management, expeditionary logistics and government-oriented freight transportation services. Additional information about Crowley, its subsidiaries and business units may be found at http://www.crowley.com.