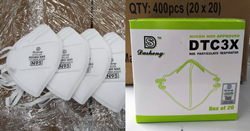 We and our partners understood and overcame risks of counterfeiting and poor-quality products by executing strong verification and quality control processes. It was a total team effort to ensure the proper, certified masks could move reliably through the supply chain.
JACKSONVILLE, Fla. (PRWEB) July 27, 2020
Continuing its uninterrupted supply chain services to government agencies, Crowley Solutions and its partners this month completed the sourcing and delivery of 5 million masks to the State of Maryland to assist its pandemic response.
To ensure the high-quality, high-demand and NIOSH-approved N95 masks reached emergency response and first responder personnel, Crowley Solutions, which is a leading provider of energy, maritime, supply chain and technology services for governments, safely and completely managed necessary logistics services including sourcing, purchasing, certifying (FDA/CDRH), transporting, customs clearance and delivery.
"We are proud to have spearheaded the completion of the masks' delivery with our partners to the State of Maryland to support the health and welfare of its people," said Chris Goss, vice president of Crowley Solutions. "We and our partners understood and overcame risks of counterfeiting and poor-quality products by executing strong verification and quality control processes. It was a total team effort to ensure the proper, certified masks could move reliably through the supply chain."
Partners included Duquette Consulting, founded by Dan Duquette, a former Major League Baseball executive; Medico Engineering, based in Slovenia; which has medical device expertise and experience working with personal protective equipment (PPE) distribution; SPS LLLP, an affiliated company of Barletta Engineering; and BAM International.
In a market sector with precise delivery and quality control demands, Crowley provided a combined supply chain solution that included fully financed procurement with access to approved product manufacturers. This approach ensured that U.S. FDA-approved products were transported to customers via a fast supply chain, with financial investment required only after the product is fully delivered.
"Crowley brought its many benefits and assets to the forefront in this effort, which allowed my firm to interface with the decision makers in Maryland with expediency and demonstrable execution," said Dan Duquette, founder and principal of Duquette Consulting. "I am very pleased not only that together, we were able to deliver to the State of Maryland on its requested PPE, but as a result of our joint efforts, we are now being recognized by Crowley as a preferred business partner for the ongoing business of delivering PPE to those in need."
Since the onset of the pandemic in the U.S., Crowley has provided total supply chain services to deliver tens of millions of masks, gloves, meals ready-to-eat (MRE) and other personal protective equipment to support military members and government employees, as well as community relief efforts. Qualified with a U.S. Top Secret Clearance for government projects, Crowley provides services for the U.S. Department of Defense (DoD), Federal Emergency Management Agency (FEMA), Office of Foreign Disaster Assistance, the World Food Program, and other commands and agencies.
"Procuring and delivering masks in such a time of high demand takes coordination and dedication, and it's a credit to our network of quality suppliers and partners in the commercial and public sectors that we delivered the 5 million masks without fail," said Eric Topp, managing director for business capture and development, Crowley Solutions.
In addition, Crowley has successfully executed ocean transportation and inland trucking and distribution for masks and other supplies associated with the pandemic for commercial customers in the U.S., including Puerto Rico, and Central America.
To learn more about Crowley's pandemic response services, including PPE procurement and supply chain services, visit http://www.crowley.com/covid19-support/.
About Crowley Solutions
Crowley Solutions provides global supply chain solution services including truck, rail, air, and ocean transportation as well as global freight forwarding; maritime solutions comprised of naval architecture and marine engineering services, vessel management, chartering, towing, port and range operations, and foreign military sales; energy services including petroleum storage, distribution by sea and land, fuel over the shore and liquefied natural gas solutions, and technology solutions that move customers to the forefront of transportation management, data analysis, automation and cyber security.
About Crowley
Jacksonville-based Crowley Holdings Inc., a holding company of the 128-year-old Crowley Maritime Corporation, is a privately held family- and employee-owned company that provides marine solutions, energy and logistics services in domestic and international markets. Crowley operates under four business units: Crowley Logistics, a logistics supply chain division that includes ocean liner services; Crowley Shipping, which encompasses ownership, operations and management of conventional and dual fuel (LNG) vessels, including tankers, container ships, multipurpose, tugboats and barges; engineering; project management; and naval architecture through its subsidiary Jensen Maritime; Crowley Fuels, a fuel transportation, distribution and sales division that also provides liquefied natural gas (LNG) and related services; and Crowley Solutions, which focuses on global government services and program management, government ship management, expeditionary logistics and government-oriented freight transportation services. Additional information about Crowley, its subsidiaries and business units may be found at http://www.crowley.com.