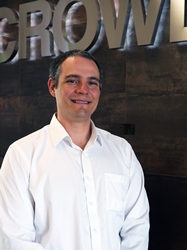 His leadership and industry knowledge will help us continue to provide innovative, reliable and safe services across the diverse fleets and terminals where we operate.
JACKSONVILLE, Fla. (PRWEB) March 14, 2019
Crowley Maritime Corp. has promoted Ira Douglas to vice president, labor relations, to lead the company's relationships, operating agreements and partnerships with unions representing seafarers, terminal stevedores and truck drivers.
Douglas, formerly director of labor relations, will continue to be based in the company's Jacksonville office and report to Bill Pennella, vice chairman and executive vice president.
"Ira has diverse experience serving at sea, as well as, directing the services involving the 3,000 mariners who ably operate our vessels and those of our customers around the world," Pennella said. "His leadership and industry knowledge will help us continue to provide innovative, reliable and safe services across the diverse fleets and terminals where we operate."
Crowley works with seven unions throughout the country that support safe and reliable working environments for employees and quality, dependable services for customers.
"Our union employees demonstrate our core values of safety, integrity, and high performance every day," Douglas said. "The labor relations team at Crowley has been a leader in the industry. For example, we've taken a leadership role in the development of the Navigation Skills Assessment Program to enhance mariners' capabilities. I am excited to continue advancing initiatives with our strategic union partners that will continue to provide thought leadership within the industry and best serve our customers."
Douglas joined Crowley in the company's labor relations department as a marine recruiter in 2006, before becoming manager of marine recruiting and development in 2008. He was promoted to director, marine personnel, in 2009 before becoming labor relations director in 2017.
Douglas is a 2003 graduate of the U.S. Merchant Marine Academy with a bachelor's degree in marine engineering systems.
He served as a third assistant and second assistant engineer aboard various U.S. flagged vessels.
He fills the role of Rudy Leming Jr., who recently transitioned to vice president, operations integration for Crowley Logistics, overseeing the integrated liner-logistics business that includes the company's supply chain services in international and U.S. markets.
About Crowley
Jacksonville-based Crowley Holdings Inc., a holding company of the 127-year-old Crowley Maritime Corporation, is a privately held family and employee-owned company that provides marine solutions, energy and logistics services in domestic and international markets. Crowley operates under four business units: Crowley Logistics, a singular ocean liner and logistics supply chain division; Crowley Shipping, which encompasses ownership, operations and management of conventional and dual fuel (LNG) vessels, including tankers, container ships, multipurpose, tugboats and barges; Crowley Fuels, a fuel transportation, distribution and sales division that also provides liquefied natural gas (LNG) and related services; and Crowley Solutions, which focuses on government services, including vessel management for government agencies, as well as engineering, project management, naval architecture through its subsidiary Jensen Maritime, and marine salvage and emergency response through its 50 percent ownership in Ardent Global. Additional information about Crowley, its subsidiaries and business units may be found at http://www.crowley.com.