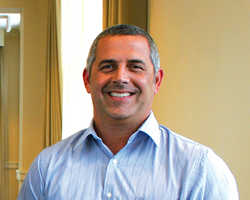 Sal and Patrick are demonstrated leaders and team players who will continue to excel at developing innovative solutions for our business that provide value and efficiency to our customers.
JACKSONVILLE, Fla. (PRWEB) June 28, 2019

Crowley Logistics has promoted two of its veteran leaders, Sal Menoyo and Patrick Collins, to continue advancing the efficiency and growth of its integrated supply chain services in the U.S., Puerto Rico and Caribbean islands.
Menoyo has been named vice president, Caribbean logistics, responsible for the strategic direction of sales, marketing, and administration of its logistics and ocean transportation services throughout Crowley's footprint in Puerto Rico, the Dominican Republic, Haiti, Jamaica and other islands of the Eastern and Western Caribbean.
Collins has been appointed vice president, terminal and marine operations for the U.S., including Puerto Rico and the Virgin Islands. He will be responsible for ensuring the operational integrity of terminal and vessel services for the logistics group, a role most recently held by Menoyo.
Both executives will report to Steve Collar, senior vice president and general manager, Crowley Logistics.
"Sal and Patrick are demonstrated leaders and team players who will continue to excel at developing innovative solutions for our business that provide value and efficiency to our customers," said Collar.
Menoyo joined Crowley in San Juan, Puerto Rico, in 1993 as a mate in the tug and barge fleet and later serving as a senior port captain. In 2000, he moved to Crowley's liner services team and held successive roles of increasing responsibility across several locations, including St. Thomas, Puerto Rico, Panama, and Port Everglades and Jacksonville, Fla.
In 2011, he received the Thomas Crowley Award, the company's highest honor. He has a bachelor's degree in marine transportation from the Maritime College at Fort Schuyler, State University of New York (SUNY). He is also a certified facility security officer.
Collins has significant experience in vessel and cargo operations. He joined Crowley in 2012 as cargo operations manager in Port Everglades, and advanced to increasing levels of leadership. In total, he has nearly 20 years of experience in the maritime sector. He earned his bachelor's degree from Loyola University and graduated from Officer Candidate School of the U.S. Coast Guard (USCG) Academy. He served as executive, deck watch and training officer on various Coast Guard cutters and has held a USCG Master Mariner license for over 17 years.
The promotions will coincide with the departure of Jose "Pache" Ayala, vice president, Caribbean logistics. Ayala is leaving Crowley to pursue personal interests later this summer. He will help in the transition before his departure.
"Pache has made many contributions aiding our customers and our team. We wish him the best in his new endeavors and thank him for his more than 30 years of service," Collar said.
Crowley, which has served Puerto Rico longer than any other U.S. logistics company, has enhanced its supply chain solutions throughout the Caribbean Basin in recent years. In 2018, the company introduced two new combination container/roll-on roll-off "ConRo" ships powered by liquefied natural gas and upgraded its Isla Grande Terminal in San Juan to reduce friction in the supply chain and bring speed to market to customers throughout its U.S. and Caribbean footprint.
About Crowley
Jacksonville-based Crowley Holdings Inc., a holding company of the 127-year-old Crowley Maritime Corporation, is a privately held family- and employee-owned company that provides marine solutions, energy and logistics services in domestic and international markets. Crowley operates under four business units: Crowley Logistics, a singular ocean liner and logistics supply chain division; Crowley Shipping, which encompasses ownership, operations and management of conventional and dual fuel (LNG) vessels, including tankers, container ships, multipurpose, tugboats and barges; engineering; project management; and naval architecture through its subsidiary Jensen Maritime; Crowley Fuels, a fuel transportation, distribution and sales division that also provides liquefied natural gas (LNG) and related services; and Crowley Solutions, which focuses on government services and program management, government ship management, expeditionary logistics and government-oriented freight transportation services, as well as marine salvage and emergency response through its 50 percent ownership in Ardent Global. Additional information about Crowley, its subsidiaries and business units may be found at http://www.crowley.com.