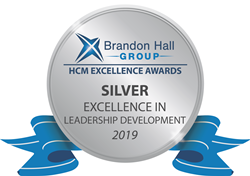 Crowley continues to have a company-wide commitment to being the employer of choice for people seeking rewarding careers in our diverse industries.
JACKSONVILLE, Fla. (PRWEB) October 14, 2019
Crowley Maritime Corp.'s innovative Leadership Development Program has earned a 2019 Silver Human Capital Management Excellence Award from the Brandon Hall Group business research and development firm.
The Crowley Leadership Development Program provides a year-long, immersive experience for employees, who learn skills necessary for advancement and success in future leadership roles with the company. In 2018, the company launched the program in partnership with the Center for Creative Leadership, a global provider of executive education.
"Crowley continues to have a company-wide commitment to being the employer of choice for people seeking rewarding careers in our diverse industries," said Jeannie Stewart, vice president, talent acquisition and development in People Services at Crowley. "We understand that means embracing a culture of learning that always strives to provide opportunities for employees to grow. This award is a credit to our People Services team that continues to deliver on that promise."
In the program, the initial class included 24 employees from diverse, international company locations and business units, who took part through in-person learning sessions and digital leadership courses. The curriculum includes business practices and other topics, such as self-awareness, learning agility, communication, political savviness, and influencing and motivating others. Ultimately, employees strengthen their business intelligence and the soft skills necessary to be effective business leaders. In addition to fulfilling the one-year commitment, each participant successfully completed a TED Talk-style presentation to Crowley's senior leadership team about ideas he or she had to enhance the company.
As part of the award selection process for the category of "Best Unique or Innovative Leadership Development Program," company programs were evaluated by a panel of veteran, independent senior industry experts, Brandon Hall Group analysts and executives based upon the following criteria: fitting a need; design of the program; functionality; innovation; and overall measurable benefits.
"Brandon Hall Group Excellence Awards Program has recognized leading organizations for the past 20-plus years for the latest trends in Human Capital Management," said Rachel Cooke, Brandon Hall Group COO and leader of the HCM Excellence Awards Program. "The initiatives that were honored are not only innovative but fit the unique needs of the business and create truly remarkable success stories."
About Crowley
Jacksonville-based Crowley Holdings Inc., a holding company of the 127-year-old Crowley Maritime Corporation, is a privately held family- and employee-owned company that provides marine solutions, energy and logistics services in domestic and international markets. Crowley operates under four business units: Crowley Logistics, a singular ocean liner and logistics supply chain division; Crowley Shipping, which encompasses ownership, operations and management of conventional and dual fuel (LNG) vessels, including tankers, container ships, multipurpose, tugboats and barges; engineering; project management; and naval architecture through its subsidiary Jensen Maritime; Crowley Fuels, a fuel transportation, distribution and sales division that also provides liquefied natural gas (LNG) and related services; and Crowley Solutions, which focuses on government services and program management, government ship management, expeditionary logistics and government-oriented freight transportation services, as well as marine salvage and emergency response through its 50 percent ownership in Ardent Global. Additional information about Crowley, its subsidiaries and business units may be found at http://www.crowley.com.