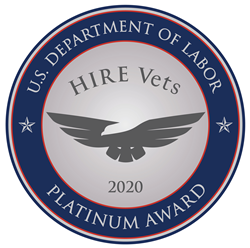 We see the contribution veterans make on a regular basis that help our customers and our company achieve great results.
JACKSONVILLE, Fla. (PRWEB) November 11, 2020
U.S. Secretary of Labor Eugene Scalia has awarded Crowley the HIRE Vets Platinum Medallion for its exemplary success recruiting, employing and retaining U.S. military veterans.
The Honoring Investments in Recruiting and Employing American Military Veterans (HIRE Vets) Medallion Program, created through a 2017 federal law, is the only federal government award recognizing companies for exceptional achievement in veteran employment.
By meeting the criteria required for a Platinum Medallion Award, the highest level of the program, Crowley "demonstrated both patriotism and recognition of the value veterans bring to the workplace," according to the Labor Department.
Veterans make up more than 9 percent of the overall company workforce, and 13 percent of Crowley's administrative employees, and the retention rate for veterans exceeds 90 percent. In addition, the company supports an employee resource group led by members of its workforce dedicated to helping veterans and active-duty personnel achieve career success. Crowley was named a Military Friendly Employer earlier this year for its success supporting veterans.
"We see the contribution veterans make on a regular basis that help our customers and our company achieve great results," said Crowley's Julius Richardson, talent acquisition business partner who is a Marine Corps veteran and co-chair of the Veterans Employee Resource Group. "We thank the federal government for the recognition, and the biggest thanks goes to our men and women who served our nation, and now make Crowley a great company and a great place to work."
Crowley joins 674 other companies honored as platinum or gold medallion honorees from 49 states, plus the District of Columbia, who have shown a commitment to hiring veterans. They also ensure that veterans have a long-term career and growth plan that uses the diverse skills they acquired through their military service.
About Crowley
Jacksonville-based Crowley Holdings Inc., a holding company of the 128-year-old Crowley Maritime Corporation, is a privately held family- and employee-owned company that provides worldwide logistics, government, marine and energy solutions. Crowley operates with four business units. Crowley Logistics is a full-service end-to end supply chain and managed transportation division that also includes ocean liner cargo services utilizing some company-owned vessels. Crowley Shipping encompasses ownership, operations and management of conventional and dual-fuel LNG (liquefied natural gas) vessels, including tankers, container ships, multipurpose vessels, tugboats and barges; engineering, project management and naval architecture; and Crowley LNG, which provides LNG distribution, engineering and related services. Crowley Fuels provides petroleum transportation, distribution and sales primarily throughout Alaska. Crowley Solutions focuses on global government services and program management, government ship management, expeditionary logistics and government-oriented freight transportation services. Additional information about Crowley, its subsidiaries and business units may be found at http://www.crowley.com.
About the HIRE Vets Medallion Program
The HIRE Vets Medallion Award is earned by leading businesses that demonstrate unparalleled commitment to attracting and retaining veterans. The 2021 HIRE Vets Medallion Program will open to employers on Jan. 31, 2021. For more information about the program and the application process, visit http://www.HIREVets.gov.