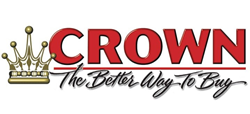 Our goal is to make our customers' experience very memorable every time we have the pleasure of interacting; thus showing why we are the truly the better way to buy
ST. PETERSBURG, Fla. (PRWEB) January 15, 2019
The 14-time Pride of Jaguar Award recipient, Crown Jaguar, was joined today to form the all-new Jaguar St. Petersburg & Land Rover St. Petersburg, the newest member of the Crown Automotive Group. The grand opening of the St. Petersburg-based dealership will be the first Jaguar Land Rover "Arch" architectural design used in the State of Florida. The Arch is a worldwide design used to express the advanced technology of these iconic brands.
Crown's newest state-of-the-art dealership features 11,500 square feet of new construction, a showroom with 16-foot-high ceilings, and 100 percent LED lighting. Jaguar St. Petersburg & Land Rover St. Petersburg's new home is also one of the first buildings to have a hurricane-resistant, seamless glass system with exterior glazing – designed for a luxuriously open feel while withstanding Florida's often inclement weather.
"We are extremely excited to have such iconic British brands added to our lineup. Especially one which compliments Jaguar, a marque we have represented since 1976," said Jim Myers, President and Chief Operating Officer of Crown Automotive Group. "We hope to be the destination for Land Rover owners in our area for all of their sales and service needs."
The grand-opening of Jaguar St. Petersburg & Land Rover St. Petersburg also showed off a state-of-the-art service reception area and a fully air-conditioned service shop. Over 3,000 square feet of the service area, including the shop, have all-new equipment for its certified technicians. Additionally, three new service lanes with quick-check capabilities have been installed. These lanes dramatically increase the speed and information gained from service by utilizing laser sensors and cameras to check wheel alignment, tread, and other readings in seconds.
"Our goal is to make our customers' experience very memorable every time we have the pleasure of interacting; thus showing why we are the truly the better way to buy." said Michal Niezbecki, General Manager of Jaguar and Land Rover of St. Petersburg.
About Crown Automotive Group
Over the last 50 years, Crown Automotive Group has grown into one of the largest privately owned dealership groups in the nation with operations in Florida, Ohio and Tennessee.
Every Crown Automotive dealership features an extensive selection of new, Crown and factory certified, and meticulously inspected pre-owned vehicles with financing options for every budget.
Customers can also expect superior service from a team of highly trained technicians at Crown's signature award-winning service facilities. Driven by four core values: Customer Focus, Teamwork, Integrity, and Growth, the group is committed to providing each customer with "The Better Way To Buy."
Visit http://www.crowncars.com for more information on Crown Automotive Group and The Better Way To Buy.
About Jaguar Land Rover
Jaguar Land Rover is the UK's largest automotive manufacturer, built around two iconic British car brands: Land Rover, the world's leading manufacturer of premium all-wheel-drive vehicles; and Jaguar, one of the world's premier luxury sports sedan, and sports car models.
The company employs almost 38,000 people globally, with 338 in the U.S. and supports around 275,000 more through its dealerships, suppliers, and local businesses.
Manufacturing is centered in the UK, with additional plants in China, Brazil, India and Slovakia.