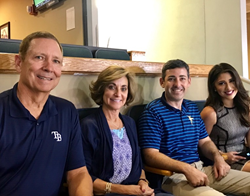 I can't think of anything more important than helping kids that have been forced to live in unsafe conditions... What Starting Right, Now provides these young people is a life-changing step forward that we are happy to take with them
TAMPA BAY, Fla. (PRWEB) October 08, 2018
Crown Automotive Group, along with the Rays Baseball Foundation presented a $7,500 check to Starting Right, Now in support of the Tampa Bay Rays "Strikeout" campaign to end teen homelessness.  The presentation took place on Saturday, September 29 at Tropicana Field during the Tampa Bay Rays game.
The check was presented by Rays president of Baseball Operations and Starting Right, Now chairman Matt Silverman, along with Crown Automotive Group president Jim Myers, who is also a board member of the organization. Receiving the check was Vicki Sokolik, founder and executive director of Starting Right, Now.
"Crown is proud to join the Tampa Bay Rays in providing housing, mentoring and resources for homeless youth in our community," said Myers.
Crown Automotive Group partnered with the Rays Baseball Foundation at the beginning of the season in an effort to end teen homelessness by agreeing to match each $25 donation every time a Tampa Bay Rays' pitcher recorded a strikeout in 26 selected games throughout the season.
"I can't think of anything more important than helping kids that have been forced to live in unsafe conditions. That's why at Crown we feel it is our responsibility to ensure that they get a safe place to stay and the education they need to thrive in our community. What Starting Right, Now provides these young people is a life-changing step forward that we are happy to take with them."
About Starting Right, Now
Starting Right, Now is a nonprofit organization that combats homelessness for youth through one-on-one mentoring, providing a stable home, obtaining employment, teaching financial literacy, life skills and promoting educational achievement. The organization, which was founded in Hillsborough County, opened its second dormitory February 2017 in South St. Petersburg, Fla.
About Crown Automotive Group
With a history spanning almost 50 years, Crown Automotive Group has grown into one of the largest privately owned dealership groups in the nation with operations in Florida, Ohio, and Tennessee.
Every Crown Automotive dealership features an extensive selection of new, certified, and meticulously inspected pre-owned vehicles with financing options for every budget. Customers can also expect superior service from a team of highly trained technicians at Crown's signature award-winning service facilities. Driven by four core values: Customer Focus, Teamwork, Integrity and Growth, the group is committed to providing each customer with "The Better Way To Buy."