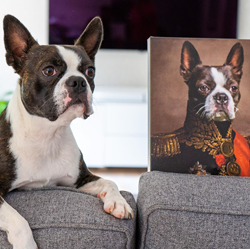 "We are very passionate about ending these practices… the money we have donated will support efforts to end the Yulin Dog Meat Festival through government-level policy changes in China, as well as to support HSI's work in South Korea to shut down dog meat farms."
HOUSTON (PRWEB) August 03, 2020
Crown & Paw, a pet-focused home décor brand, recently donated more than $75,000 to Humane Society International (HSI), the international division of The Humane Society of the United States. Inspired by HSI's work to end the Yulin Dog Meat Festival, Crown and Paw committed to donating 20% of all sales that took place during the festival (June 21 – 30) this year, as well as 20% of all sales on July 16 which was a Bok Nal date. These events typically involve the killing of dogs and consumption of dog meat and by donating around the times of these events Crown & Paw hoped to raise awareness of these horrible activities.
The Yulin Dog Meat Festival is an annual 10-day event held in Yulin, a city in the Guangxi province of China. Several thousand dogs are consumed during the event. Bok Nal days are held on what is predicted to be the three hottest days in South Korea each year. On these days dog meat soup is consumed in the mistaken belief that it cools the blood. During Bok Nal, 70 – 80% of the estimated 2 million dogs that are killed annually for meat in South Korea are consumed.
"Honestly, the thought of these two events just sickens us," said, Adam Reed, owner of Crown & Paw. "While there are so many worthy causes, we are very passionate about ending these practices and feel that our presence is now at a level where we can make a serious impact. The money we have donated will support HSI's work with Chinese partner organizations to clamp down on the illegal dog meat trade, and advocate for more Chinese cities to ban the consumption of dog and cat meat. In fact, we recently produced a series of portraits for HSI's most recent group of rescues - dogs whom they have saved from a dog meat farm in South Korea. The rescues' new parents now have beautiful Crown and Paw canvases featuring their precious fur babies in their homes."
HSI works around the globe to promote the human-animal bond, rescue and protect dogs and cats, improve farm animal welfare, protect wildlife, promote animal-free testing and research, respond to natural disasters and confront cruelty to animals in all of its forms. It is active in over 50 countries and has a global presence with major bases in the US and the UK, and headquartered in Washington DC.
Crown & Paw is being awarded a commemorative plaque to be placed on the wall of HSI's new training center in South Korea as an indicator of the level of support they have provided to HSI to date.
About Crown and Paw
Crown & Paw is a fun-loving custom pet goods brand dedicated to helping pet owners express their love, adoration, and sometimes even their obsessiveness, with their beloved pets. The company curates authentic 19th century portraits and rare Renaissance era oil paintings and combines them with pets of all shapes and sizes. The pet lover simply uploads a photo, and Crown & Paw's incredibly talented team of artists will do the rest. The artists are trained to capture each pet's unique characteristics and facial features, and to express their personality in the finished portrait. http://www.crownandpaw.com