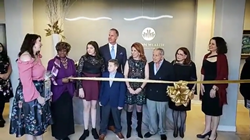 "We designed our new headquarters as a central to go place for business owners, executives and families seeking customized financial expertise and individual attention," said Dipp Metzger. "It is my honor to have our region's leaders here as we officially launch this new space."
EL PASO, Texas (PRWEB) February 06, 2019
Crown Wealth Strategies, a national full-service financial firm, officially opened its global headquarters at a ribbon-cutting ceremony and reception here attended by 135 of the city's leading government, business and entrepreneurial leaders.
Founded by President Lizzie Dipp Metzger eight years ago, the financial advisory and wealth strategies firm has grown exponentially, requiring it to build out this new 4,000 square foot office and meeting space over the last year. The headquarters anchors the Crown Wealth Strategies Building, a 9,300-square- foot, one-of-a-kind diversified financial center that will house separate professional resources for independent third-party professionals such as CPAs, attorneys, property and casualty insurance companies and other providers.
"We designed our new headquarters as a central to go place for business owners, executives and families seeking customized financial expertise and individual attention," said Dipp Metzger. "It is my honor to have our region's leaders here as we officially launch this new space."
Representative of her focus on enabling families to achieve their long-term goals, Dipp Metzger invited her own multi-generational family to cut the ceremonial ribbon at the new headquarters.
Dipp Metzger guides clients with holistic strategies for retirement, college funding, business planning, and wealth accumulation. She has been consistently recognized for her leadership in the industry. In 2017, she was named Council President by New York Life, first among 12,000 licensed New York Life agents, in recognition of her business growth, client service, ethics and professionalism. In 2018, she was named to the Chairman's Cabinet of New York Life.
Lizzie Dipp Metzger is a member Agent, The Nautilus Group®, a service of New York Life Insurance Company -http://www.TheNautilusGroup.com Financial Adviser offering investment advisory services through Eagle Strategies, a Registered Investment Adviser. Registered Representative offering securities through NYLIFE Securities LLC, Member FINRA/SIPC, a Licensed Insurance Agency, • 303 N. Oregon Suite 1100 El Paso TX 79901 •915-534-3200 Crown Wealth Strategies is not owned or operated by Eagle Strategies LLC or its affiliates. SMRU 1803894