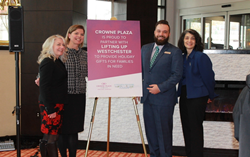 WHITE PLAINS, N.Y. (PRWEB) November 12, 2019
A kickoff event took place at the Crowne Plaza White Plains on Nov. 5, along with the activation of a new winter accessories and new toy drive.
"Crowne Plaza White Plains is honored to be a part of the Holiday LIFT campaign," said Monika Henry, general manager of Crowne Plaza White Plains. "As part of the Westchester community, we are thrilled to be able to spread holiday cheer to those in need and support the generous efforts of Lifting Up Westchester."
As part of their contribution, Crowne Plaza White Plains is donating 12 cooked turkeys with all the fixings to LUW for its Thanksgiving feast and providing drop-off locations in the lobby for new hats, gloves, scarves and new toys.
LUW signature holiday-themed activities include: providing 2,000 meals from the LUW soup kitchen on Thanksgiving, Christmas and New Year's Day; filling and delivering 500 food bags; distributing pies, cookies and goodie bags; and wrapping and delivering hundreds of gifts to men, women and children in need. From food drives to decorating LUW homeless shelters, the Holiday LIFT campaign has activities for all ages and groups.
"We are so grateful to Crowne Plaza White Plains for taking such a hands on approach to helping those in need during the holidays," said Anahaita Kotval, Chief Executive Officer of Lifting Up Westchester. "It is thoughtful and dedicated community partners like them that make this truly the most wonderful time of the year."
Individuals interested in getting involved in this year's Holiday LIFT campaign can help in a variety of ways:

Organize a food drive and involve your neighborhood, school, religious organization or community group. Foods needed most are turkeys, hams, instant mashed potatoes, gravy mix, stuffing, canned vegetables, canned cranberries, cake and brownie mixes.
Regift a duplicate gift or unused gift card.
Donate the free turkeys or coupons for free turkeys that many grocery stores give away at Thanksgiving or Christmas.
Donate $10-$25 grocery store gift cards for food bags given to vegetarians and families who traditionally eat something other than turkey and ham for their holiday meals.
Pie Day is Dec. 14. LUW is accepting homemade or store-bought baked goods. Bake pies and holiday cookies for donation.
Donate new multi-cultural dolls, sports balls, and board games for children in the Brighter Futures Youth Programs. Gift cards for teens are also appreciated.
Donate wrapping paper.
The deadline for food donations is Thursday, Dec. 5. New clothing, wrapping paper, toys and gift cards may be donated through Tuesday, Dec. 17. Drop-off at 35 Orchard St., White Plains – weekdays (9 a.m. to 5 p.m).
For specific dates and timing information on all Holiday LIFT activities, please visit: http://www.liftingupwestchester.org/holidays or contact the Community Outreach Department via e-mail ninzinna@liftingupwestchester.org or phone (914) 949-3098, ext. 9735.
For additional information and/or to donate, please visit http://www.liftingupwestchester.org.
The Crowne Plaza is at 66 Hale Ave. in White Plains, N.Y., and can be reached at (914)-682-0050 or by visiting http://www.cpwestchester.com.
About Crowne Plaza White Plains
Located in downtown White Plains, N.Y., the Crowne Plaza White Plains is a prime destination for social events and corporate events/conferences. The hotel boasts 17,000 square feet of flexible function space, an award-winning culinary team, expert event planners and 402 guest rooms. It recently completed a renovation of the main public spaces (lobby, restaurant/lounge area, new collaborative meeting spaces including "The Studio") and is a popular meeting place for small to large groups.
About IHG®
IHG ® (InterContinental Hotels Group) [LON:IHG, NYSE:IHG (ADRs)] is a global organization with a broad portfolio of hotel brands, including Six Senses Hotels Resorts Spas, Regent Hotels & Resorts, Inter-Continental® Hotels & Resorts, Kimpton® Hotels & Restaurants, Hotel Indigo®, EVEN Hotels®, HUALUXE® Hotels and Resorts, Crowne Plaza® Hotels & Resorts, voco™ Hotels, Holiday Inn®, Holiday Inn Express®, Holiday Inn Club Vacations®, Holiday Inn Resort®, avid™ hotels, Staybridge Suites® and Candlewood Suites®. IHG franchises, leases, manages or owns more than 5,600 hotels and nearly 843,000 guest rooms in more than 100 countries, with over 1,900 hotels in its development pipeline. IHG also manages IHG® Rewards Club, a global loyalty program, which has more than 100 million enrolled members. InterContinental Hotels Group PLC is the Group's holding company and is incorporated in Great Britain and registered in England and Wales. More than 400,000 people work across IHG's hotels and corporate offices globally. Visit http://www.ihg.com for hotel information and reservations and http://www.ihgrewardsclub.com for more on IHG Rewards Club.
For our latest news, follow us on social media: at: http://www.twitter.com/IHGCorporate, http://www.facebook.com/IHGCorporate and http://www.linkedin.com/company/intercontinental-hotels-group.
About Lifting Up Westchester
Lifting Up Westchester (http://www.liftingupwestchester.org) is a 501 (c )(3) organization whose mission is to restore hope to Westchester County's men, women and children in need by providing them with food, shelter and support – lifting them to greater self-sufficiency with dignity and respect. It is one of the largest social services agencies in Westchester County and has been fulfilling its mission since 1979 through the operation of eight community-based programs. The agency serves 3,500 men, women and children each year providing almost 100,000 meals and 20,000 nights of shelter.
For more information about Lifting Up Westchester, visit http://www.liftingupwestchester.org or contact Chris Schwartz at cschwartz@liftingupwestchester.org or (914) 949-3098.