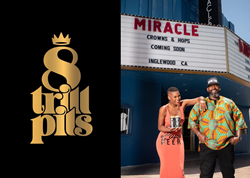 LOS ANGELES, California (PRWEB) August 04, 2020
Crowns & Hops, the LA-based Black-owned craft beer brand that founded the #BlackPeopleLoveBeer movement, is announcing "The 8 Trill Pils Initiative," a craft beer initiative dedicated to achieving racial equity within the industry. To jumpstart that effort, the initiative will kick-off with the launch of Crowns & Hops "8 Trill Pils Fund," a $100,000 development fund that will be distributed to help establish more Black-owned breweries.
The 8 Trill Pils Initiative is named after a statistic from the Business Case for Racial Equity by the W.K. Kellogg Foundation case study that found the U.S. stands to realize a staggering $8 trillion gain in GDP by closing the racial equity gap by 2050. The report goes on to detail that, by closing the gap in the major 'pillars' of productivity – Healthcare, Education, Criminal Justice, Housing and Employment/Entrepreneurship – society can start to realize a substantial impact.
The Crowns & Hops "8 Trill Pils Fund," is launching with utilizing a $100,000 grant provided by BrewDog, Scottish craft brewer, and will support Black owners with the opening of their breweries. Details on the fund, including, who is eligible and how recipients will be selected, will be announced in the coming weeks on 8TrillPils.org.
"There are more than 8,000 craft breweries in the U.S. Of those, around 60 are Black-owned. The craft beer industry is a prime example of racial disparity in our country – Black people are vastly underrepresented in the business of brewing, creating a significant, untapped economic opportunity," says Teo Hunter, Co-Founder of Crowns & Hops.
"Initiatives like 'Black is Beautiful' have helped drive awareness to problems that plague the Black community. We want to build on that momentum and drive the conversation forward, specifically regarding racial equity. With The 8 Trill Pils Initiative, we hope to drive the craft beer community to take action in our own arena, and lead as an example for other industries with similar underrepresentation," says Beny Ashburn, Co-Founder of Crowns & Hops.
Crowns & Hops' relationship with BrewDog first began in April of 2019, when Crowns & Hops received funding as part of the BrewDog Development Fund, primarily because of BrewDog's shared belief in the Crowns & Hops' mission of highlighting diversity in craft beer. Crowns & Hops reengaged them now to expand that mission to include driving equity and paying it forward.
James Watt, co-founder of BrewDog commented: "As a global craft brewer, it is our responsibility to use our voice as a force for good. In the case of racial equity, that means literally opening and supporting more Black-owned breweries like Crowns & Hops so that Black people are not only represented in the business of beer, but are also successful."
Hunter added, "Eradicating systemic racism is the first step. In the U.S., it is imperative to empower and radically support Black entrepreneurs, previously starved of resources and capital, with the goal of achieving maximum success. This agenda will not only drive success for the Black community, but for the entire country."
To learn more as The 8 Trill Pils Initiative evolves, please visit 8TrillPils.org to sign up for updates and keep a close eye on the Crowns & Hops social media channels: @crownsandhops (Instagram, Twitter and Facebook).

About Crowns & Hops
In 6-years, Co-Founders Teo Hunter & Beny Ashburn have become the leaders and voice of a craft beer movement bringing much needed diversity and inclusion to the industry. Hunter & Ashburn disrupted the status quo of the craft beer industry, and built a brand that is bigger than beer. Through their global social movement #BlackPeopleLoveBeer & #BrownPeopleLoveBeer, they have been able to galvanize the voice of People of Color in craft beer. Crowns & Hops Brewery Co. will be the first Black-owned brewery in Inglewood, CA, a few short miles from the new Rams/Chargers Stadium.
Their mission is to create spaces that are community centric driving diversity, racial equity, economic growth and influencing inclusion. Through curated events, content and fashion, Crowns & Hops Brewing Co. is the first ever craft beer brand that bridges lifestyle, communities of color, "dope" culture and craft beer. Welcome to The New Now of craft beer.
Website https://crownsandhops.com/
Instagram: https://www.instagram.com/crownsandhops/
Twitter: https://twitter.com/CrownsAndHops
Facebook: https://www.facebook.com/crownsandhops
About BrewDog
Since 2007 BrewDog has been on a mission to make other people as passionate about great craft beer as we are. From the Headliner series, which includes bold, uncompromising pack leaders like the flagship Punk IPA, to the Amplified range (beer, but turned up to 11), BrewDog brews beer that blows people's minds and has kick-started a revolution.
Co-Founder James Watt and Martin Dickie shook up the business world in 2010 with the launch of pioneering crowdfunding initiative Equity for Punks, an initiative that has seen the company raise £73m over six rounds, with their latest round open until April 2020.
The funds and the community of Equity Punk shareholders (135,000) has enabled the Scottish craft brewery to scale up without selling out. With over 102 bars across the globe, export into 60 countries, and a brewery in Ohio that launched in 2017, BrewDog continues to take the craft beer revolution stratospheric, whilst continuing to push the boundaries, invest in people, put the beer first, and champion other small breweries in its venues.
Website https://www.brewdog.com/
Instagram: https://www.instagram.com/brewdogofficial/
Twitter: https://twitter.com/BrewDog
Facebook: https://www.facebook.com/brewdogofficial/
Media Contact:
For more information, please contact: Press@crownsandhops.com