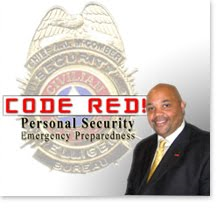 Small business owners, local communities and business organizations now have immediate access to 2 powerful guides and a comprehensive toolkit to help them better plan for emergencies BEFORE they happen!
Arlington, VA (PRWEB) September 10, 2014
During the next live episode of the Code Red! radio show specifically dedicated to personal security, safety and emergency preparedness issues across America and around the world, host Alfred McComber's special featured guest will be Gail Moraton, Business Resiliency Program Manager with the Insurance Institute for Business & Home Safety based in the Tampa, FL area.
Gail will stop by the show live to talk about the importance of having business preparedness and continuity plans in place before natural and man-made disasters happen. Gail will also discuss the Insurance Institute for Business & Home Safety's no-cost comprehensive business continuity planning toolkit called, "Open for Business-EZ" that is now available as a complimentary download within 2 recently released preparedness guides from the International Economic Development Council based in Washington, DC.
The worldwide online Code Red! radio show broadcast is scheduled for Wednesday morning, September 10, 2014 from 10:00AM-10:30AM (EDT). Listeners can tune into the live Code Red! radio broadcast from any internet connected computer device by visiting: http://www.bit.ly/CRRS-09-10-14.
Listeners also have the option of calling in to the live show on (646) 478-5931 to ask our featured guest or radio host questions related to the topics being discussed.
The Code Red! radio show is hosted by long time high profile dignitary protection and veteran law enforcement officer Alfred McComber. The show which has been airing since 2004 is specifically dedicated to helping civilians and first responders across America and around the world become better prepared for all sorts of natural and man-made disasters and critical emergencies. For more details, visit Code Red!'s main website at: http://www.CodeRedRadioShow.com