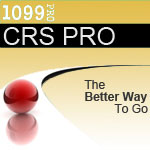 CRS PRO is scheduled to be available for download by June 1st.
Los Angeles, CA (PRWEB) May 16, 2017
1099 Pro, Inc., an industry leader in user-friendly and affordable 1042-S, 1095, 1099, W-2, FATCA, and CRS software reporting solutions, is nearing its June 1st software release date for entry into the Common Reporting Standard (CRS) market. 1099 Pro's CRS Reporting Software, CRS PRO, answers the Organisation for Economic Co-Operation and Development's (OECD) call for jurisdictions to obtain and share account holder information from their financial institutions.
The OECD Common Reporting Standard was instituted as a key component of the Automatic Exchange of Information for Tax Matters (AEOI) program to exchange financial information between tax jurisdictions with a goal towards achieving international tax transparency. Supported by over 100 jurisdictions, this multilateral reporting consists of specific financial account information including the types of accounts, covered taxpayers, due diligence procedures and other data.
To quote Michael Stewart, 1099 Pro, Inc.'s Director of Compliance, "To comply with CRS requirements Financial Institutions, or FI's, must perform their own due diligence to ascertain those entities classified as a Reporting FI. Further, Financial Institutions must designate accounts as reportable or not. Reportable accounts are generally considered to be any depository accounts, custodial accounts, equity & debt instruments, cash value contracts, and annuity contracts – all of which can have a reporting deadline as early as May 31st for some jurisdictions. 1099 Pro's CRS Reporting Software, or alternately AEOI Reporting Software, will prove to be an invaluable resource to these Financial Institutions, particularly as the OECD increases future efforts towards global implementation of the program."
Reporting deadlines for CRS compliance are fast approaching. Early adopter countries with a May 31st reporting deadline, such as the United Kingdom, total at twenty-nine jurisdictions. Another eleven jurisdictions face a June 31st reporting deadline. Additional challenges may be faced by those countries such as Ireland, who are adopting the "Wider Approach" to CRS due diligence, and the Cayman Islands, a major reporting nexus. Financial Institutions would be prudent to have a reputable software product in place, with an affordable price and quick implementation, to meet these looming deadlines.
1099 Pro's CRS PRO software provides a streamlined solution to CRS compliance with an intuitive five step reporting model consisting of 1) Importing Account Data, 2) Generating Summary Balancing Reports, 3) Individual Account Lookup and Editing, 4) Generating XML Files, and 5) Creating Specialized XML Envelopes per Tax Jurisdiction. CRS PRO allows users to segment their data by Financial Institution, Tax Year, jurisdiction, or other customized criteria. For ease of use, CRS PRO is a standalone application, designed to import data from outside financial systems, thus sidestepping potential integration issues. To safeguard sensitive data, CRS PRO is hosted internally by Financial Institutions so that no outside parties have access to sensitive account holder information.
CRS PRO is scheduled for release Thursday, June 1st. Priced thousands of dollars less than its competitors, CRS PRO allows users to download a DEMO version which can be quickly converted into the full version upon purchase. Discounted, pre-sale, pricing starts at $1,099 and is paired with complimentary Technical Support via phone, email, and chat. Please see 1099 Pro's AEOI Reporting Software page, or complete the CRS Reporting Survey for more details.
ABOUT 1099 Pro, Inc.
1099 Pro, Inc. is a SSAE 16 SOC I Type II audited, US based, information return reporting company that has been in business for over 25 years. Responsible for filing over 10% of the information returns filed in the United States each year, and reporting for over half the Fortune 500 companies, 1099 Pro offers a wide range of software and services for ever changing industry needs. 1099 Pro software is available for 1042-S, ACA 1095, 1099, W-2, FATCA 8966, and CRS reporting and is capable of processing customized reports, printing, electronic file creation, and corrections.