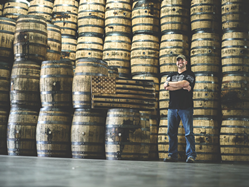 "Now more than ever, it is vital to support and promote American businesses, American workers, and American-made products. The President is looking forward to welcoming these great Patriots to the White House."
LOUISVILLE, Ky. (PRWEB) September 21, 2020
On Monday, October 5, 2020, Cruise Customs Flags will participate in the fourth annual Made in America Product Showcase at the White House. "Over the past four years, President Trump has proudly championed products made right here in the USA," Special Assistant to the President John Horstman said. "Now more than ever, it is vital to support and promote American businesses, American workers, and American-made products. The President is looking forward to welcoming these great Patriots to the White House."
Beginning with a passion for the American flag and all that it symbolizes, Cruise Customs Flags uses repurposed Kentucky bourbon barrels to create custom flags. While many of the products at Cruise Customs are repurposed, ALL the products are hand-crafted by veterans from the military. U.S. Military veteran and Co-owner Chris Cruise and wife Amber give the team members a new purpose, just as the bourbon barrels find new purpose in their products.
Established in 2017, Chris Cruise understands the value of patriotism. Combining his wife's Kentucky roots and his own veteran background, the company was conceived when Chris was inspired to build a flag for their own home. As they gifted flags to close friends and family, the company continued to gain media attention in 2018. Rapidly expanding over the past two years, Cruise Customs Flags now includes apparel and accessories as part of their product line, in addition to their popular bourbon barrel flags.
Part of the mission at Cruise Customs Flags is giving back to the community. In an effort to make their own backyard a better place, Cruise has partnered with Norton Children's Hospital Cancer Institute's Young Adults and Adolescent art therapy class. Also, they recently raised $70,000 for medical frontline heroes at Norton Healthcare and U of L Health during the COVID-19 pandemic, using profits from the 'America – One Heartbeat' flag, as seen on Fox and Friends in late August.
Businesses from each of the 50 states have been invited to display their American-made products at the White House in Washington, D.C. Cruise Customs Flags plans to showcase their Veteran Hand-Crafted Bourbon Barrel American Flags, Apparel, & Accessories during the event.