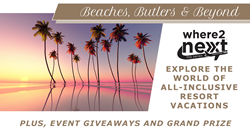 We continue to see a rise in consumer interest for land-based travel, the "Beaches, Butlers, and Beyond" series is an opportunity to educate travelers who are new to all-inclusive vacations or introduce new resorts as the collections of beautiful resort properties continue to grow."
CORAL SPRINGS, Fla. (PRWEB) September 24, 2020
After a groundbreaking launch in August, the Where2Next™ Virtual Event Series continues to showcase travel opportunities to clients and maximizes Cruise Planners advisor's sales. On Wednesday, the "Beaches, Butlers and Beyond" edition of the Where2Next™ Virtual Event Series culminated in a month's worth of preparations and marketing to ensure success.
The Where2Next™ Virtual Event Series is focused on creating turnkey consumer programs that are available to the entire Cruise Planners franchise network and completely free to participate. The Cruise Planners Home Office Team executes all of the behind-the-scenes tasks including segmenting prospective consumers based on travel interests and preferences, automating client invitations and event reminders, and ultimately producing a high-quality cinematic experience for consumers to learn about new travel destinations. Hosted by Cruise Planners' CEO, Michelle Fee and guest travel experts from Sandals Resorts and Karisma Hotels & Resorts, the event focused on all-inclusive resort vacation experiences, from families to weddings and honeymoons to luxury adult-only get-aways.
The Tools to Make Travel Possible
Taking the headache out of deciding which resort is the right one, Cruise Planners advisors now deliver all-inclusive resort information through vivid, mobile-friendly and proprietary technology. The All-Inclusive Resort System, allows travel advisors to search from hundreds of all-inclusive resorts based on supplier name, destination, consumer budget, resort amenities, consumer travel style and more. The end result are "Resort Sheets" that advisors send to their clients which nicely package their recommendations into easily understood information sheets and pricing.
"We must continue to evolve as industry leaders to ensure we can meet our consumers' demands regardless of the circumstances," Fee said. "We continue to see a rise in consumer interest for land-based travel, the "Beaches, Butlers, and Beyond" series is an opportunity to educate travelers who are new to all-inclusive vacations or introduce new resorts as the collections of beautiful resort properties continue to grow."
The Where2Next™ series of virtual events will continue throughout 2020-2021 highlighting new and exciting destinations that will inspire consumers to travel and be a resources for Cruise Planners travel advisors to build their businesses back up to pre-pandemic levels, all supported by their Home Office Team.
About Cruise Planners
Cruise Planners, the nation's largest home-based travel advisor franchise network and an American Express Travel Representative, has more than 2,500 franchise owners who independently book vacations and travel experiences for their clients. Headquartered in Coral Springs, Fla. since 1994, Cruise Planners provides its travel advisors with access to award-winning, innovative marketing; cutting-edge mobile technology; dynamic, hands-on training; lead-generating tools, as well as professional coaching and development. Cruise Planners has achieved top producer status with every major cruise line, many land vendors and maintains a philanthropic drive earning an International Franchise Association FranTech award for innovation, the Cruise Lines International Association highest honors, Magellan Awards from Travel Weekly and The American Society of Travel Advisors first-ever Franchise Partner of the Year. Learn more at http://www.cruiseplanners.com