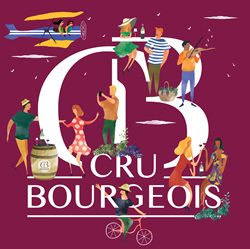 Starting with the 2018 vintage, the Crus Bourgeois du Médoc will return to the historical hierarchy of the Crus Bourgeois du Médoc, with three categories: 'Cru Bourgeois', 'Cru Bourgeois Supérieur' and 'Cru Bourgeois Exceptionnel' replacing the single category classification
NEW YORK (PRWEB) September 24, 2019
The Crus Bourgeois du Médoc (http://www.cru-bourgeois.com), one of the oldest and most prestigious classifications in Bordeaux, have announced the tenth and final annual Official Selection of chateaux with the 2017 vintage.
226 chateaux from the prestigious Médoc AOCs of Médoc, Haut-Médoc, Listrac-Médoc, Moulis, Margaux, Pauillac, and Saint-Estèphe were selected to use the 'Crus Bourgeois' designation in 2017, a vintage that saw many properties lose significant amounts of their harvest due to severe frost. This year's Official Selection will see a total of 19 million bottles bearing the proprietary 'Cru Bourgeois' authentication sticker released worldwide, representing approximately 23% of the Médoc's total production for the vintage.
The 2017 Official Selection will be the last in the annual format for the Crus Bourgeois du Médoc. The innovative format, a benchmark for Bordeaux and the rest of France, pioneered a quality approach to wine classification that was unique in the wine industry when launched back in September 2010 with the 2008 vintage. The approach mandated that each vintage submitted by chateaux for consideration by the Crus Bourgeois du Médoc must go through a government-approved quality assurance procedure that approves the quality of a given volume of wine and provides a guarantee of this quality to the consumer. In this process, each wine is tasted blind by an external group of professional tasters and evaluated by an independent body based on a set of specifications before being commercialized.
Starting with the 2018 vintage, the Crus Bourgeois du Médoc will return to the historical hierarchy of the classification, with three categories: 'Cru Bourgeois', 'Cru Bourgeois Supérieur' and 'Cru Bourgeois Exceptionnel' replacing the single category that is currently in place. As part of this new structure, the French government officially approved the organization of a five-year classification, in which applications from properties wishing to be included were commissioned for review. The results of the applications for inclusion in the new classification are scheduled to be published in late February 2020.
'Cru Bourgeois' wines offer incredible diversity and excellent value for the money, with wines ranging from $20-$50 a bottle. Since 2013, the number of Crus Bourgeois du Médoc distributed in the U.S. has grown from 130 to 180. Today, nearly 70% of the Crus Bourgeois du Médoc are available on the U.S. market and in most fine wine stores throughout the country.
About the Crus Bourgeois du Médoc
The Crus Bourgeois du Médoc (http://www.crus-bourgeois.com) form the largest family of Bordeaux crus from some of the most prestigious appellations of the Left Bank. This family brings together vineyards with widely differing profiles and terroirs that satisfy a drastic set of requirements. Thanks to its yearly blind selection process, the Crus Bourgeois du Médoc guarantee consumers a standard of quality for every bottle that proudly bears the 'Cru Bourgeois' label.