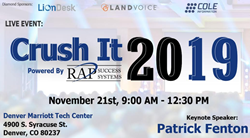 The Crush It event addresses one of the biggest challenges facing real estate agents: lead conversion. Isaiah Colton
ROCHESTER, N.Y. (PRWEB) November 07, 2019
Crush It Event staff, organizers of a leading industry event series for real estate agents and brokers, is pleased to announce that they have finalized the agenda for the upcoming season. The first event is scheduled to take place on November 21, 2019, in Denver, at the Denver Marriott Tech Center. For registration information, visit http://www.crushitevent.com. The first 100 registrants will have their registration costs waived.
Attendees will learn proven strategies to improve productivity, efficiency, and performance of their sales funnel. The keynote speaker will be Patrick Fenton, a motivational speaker, and a real estate coach. Patrick supports the mission of Crush It Event, which is to help agents produce consistent results; or, Crush It selling real estate. At the event, Pat will share strategies from The Ultimate Listing Machine Mastery Course, which he co-developed with Isaiah Colton, CEO RAP Success Systems; RAP Success Systems is hosting the event.
Key sponsors for the event include Cole Realty Resource, Landvoice, and LionDesk. These sponsors share Crush It Event's goal to bring innovative technology solutions to real estate agents and brokers.
For more information about these and other sponsors, visit http://www.crushitevent.com.
Attendees from past Crush It events say they've seen first hand how these principles have helped real estate agents excel and prosper, achieving a whole new trajectory. Listen to their perspectives and descriptions of what to expect in this short clip.
As the keynote speaker, Pat will share proven strategies that the top 1% of real estate agents use to unlock greater productivity and performance for themselves and their teams.
About the Denver Crush It Event
The event showcases key strategies and technologies that help agents and brokers create more competitive teams and generate more listings. Attendees learn how to achieve measurable success in such areas as leveraging artificial intelligence, sales & marketing automation, lead generation and pipeline management and sales strategies.
Send your request to learn about upcoming Crush It Event presentations in other cities across the country, to info@crushitevent.com
About RAP Success Systems
RAP Success Systems builds powerful, simple, and easy-to-use platforms to help real estate agents and brokers convert more leads and generate more revenue. The company's mission is to combine innovative solutions and modern technology to help real estate agents and brokers achieve their goals. http://www.rapscuccess.com