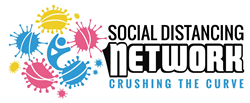 This new Social Distancing Network platform allows us to bring exclusive and relevant content to a whole new audience at a time when it's needed more than ever.
NASHVILLE, Tenn. (PRWEB) March 31, 2020
It was announced today that Crush It TV, the online entertainment content platform, has launched a temporary subsidiary during this time of quarantine called the Social Distancing Network (SDN). The network's programing focuses on educational and entertaining video content aimed at school-age children. With content ranging from fun facts about the planet Jupiter and tips for healthy eating, to how to write a check and changing one's oil, the network offers content for elementary age kids all the way through high school students.
With schools across the country closed indefinitely due to the COVID-19 global pandemic, the decision to launch SDN was an easy one. Not only are parents seeking ways to educate their kids in a fun and innovative way, but children are also needing a way to stay engaged and entertained outside of school.
"With the current state of affairs, we knew we had to pivot," says Brian Williams, co-founder of Crush It TV. "This new Social Distancing Network platform allows us to bring exclusive and relevant content to a whole new audience at a time when it's needed more than ever."
In addition, Williams recognizes that many parents and guardians are facing problems—like unemployment, no childcare, and wage cuts—that didn't even exist for them a month ago. It's his hope that Crush It TV can help ease their burden in some way.
"I was personally moved by the Tennessee Department of Education's partnership with the state's PBS affiliates to bring educational content to students that are home from school," says Williams. "But traditional forms of television are limited by set scheduling that doesn't always line up with the family's schedule. Until the coronavirus pandemic has been resolved, all series from the Social Distancing Network will be available for consumers on demand—and for free."
"We're hopeful that launching SDN now will encourage people to stay inside and reduce their amount of physical interaction so we can crush the curve," adds James Thayer, Crush It TV's director of digital content. "And if we can bring a little levity and joy to people right now, that's pretty great, too."
Though the content is presently free, the Social Distancing Network is encouraging users to donate. Production will be ongoing, and donations will be used to ensure Nashville-based crew and editors, who have lost work due to the shutdown, are able to keep working through home-based production.
http://www.socialdistancingnetwork.tv/
About Crush It TV
Based in Nashville and self-described as "popcorn entertainment empowering you to Crush It in life," Crush It TV is an online content platform. Present programs include stories of indomitable will in Like a Boss, the true tales of the brave men and women who shaped the United States in American Heroes, the physical wellness program Find the Right Fit, cooking show College Cuisine, and Beauty Through the Ages (fostered through a partnership with the Academy of Make Up Arts Nashville and popular fashion blogger Christina Mandrell). More information about scheduled releases will be made available throughout the year.