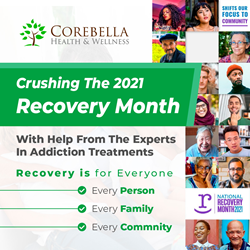 everyone plays a major role in increasing awareness and encouraging the importance of understanding substance abuse and mental disorders
TEMPE, Ariz. (PRWEB) September 23, 2021
Understanding Recovery Month
Millions of Americans have successfully transformed their lives through drug recovery. These successful cases go unnoticed by the majority of the population most of the time, however. Recovery Month provides the perfect vehicle for everyone to celebrate these achievements. Thousands of prevention, treatment, and recovery facilities around the nation promote and celebrate Recovery Month each September by sharing the accomplishments made by those in recovery with the community. This way, everyone plays a major role in increasing awareness and encouraging the importance of understanding substance abuse and mental disorders.
Overdose Statistics In The United States
Overdose deaths increased significantly in almost every state during 2020. According to the Centers for Disease Control and Prevention 28 states had more than a 30 percent increase in overdose deaths in 2020 compared to 2019, including 10 states that increased by more than 40 percent. Pandemic lockdowns made getting treatment difficult and unfortunately contributed to the number of Americans who died of drug overdoses last year, as many recovering addicts have relapsed during these events. Data shows that opioids were involved in 74.7 percent of overdose deaths, rising to 69,710 in 2020 from 50,963 in 2019. Preliminary data shows that 418 overdose deaths occurred during the first three months of 2021 compared to 378 overdose deaths in the first three months of 2020. 46 percent of these deaths are linked to fentanyl.
Alcohol & Drug Abuse Trends In Arizona
One of the most devastating drug and alcohol abuse trends in Arizona is the rapid rise in deaths caused by opioid overdose. Over 3 Arizonans a day have perished from opioid overdose in the last two years. From all types of opioids that we find to have contributed to this alarming rise in deaths, Fentanyl was the most commonly used painkillers in 2019-2020. Fentanyl is a synthetic opioid that is 50 to 100 times more potent than morphine, and has greatly contributed to the majority of deaths caused by overdose. Arizona is also seeing a rise in the use of methamphetamines, and tranquilizer drugs such as Xanax. COVID-19-related stress has also played a significant role in the number of substance abuse deaths that have occurred in Arizona this year.
Making Outpatient Recovery A Reality For Better Longer Lasting Results
Since 2015, Corebella Health & Wellness has earned a reputation for being one of the leading health care providers in the Tempe, Glendale, and Scottsdale areas. Our highly trained, board-certified providers offer a wide range of services including outpatient addiction treatment, individual counseling and group counseling, primary care, and interventional pain management. Having specialized in the recovery field for over 6 years, Corebella Health & Wellness has witnessed the positive reality of recovery. Individuals who embrace recovery achieve improved mental and physical health and form stronger relationships with their neighbors, family members, and peers. We know recovery is possible, and we strive to let our patients know they can achieve it.
Furthermore, having recognized our patient's needs, Corebella is excited to announce the addition of psychiatric services to our treatment options. Corebella is a fully integrated holistic addiction treatment program capable of supporting all our patient's treatment needs.
Seek Advice & Coping Tips From Experts In Addiction Treatment
Corebella is celebrating Recovery Month by sharing a variety of educational content in order to assist individuals and families who are working to conquer addiction and live their best lives. From diet tips to assist with physical and mental withdrawal to everyday wellness strategies to support your journey to wellness.
Recovery Is Possible - Everyone Deserves A Full Life.
Recovery from mental disorders and/or substance abuse disorders is a process of change through which individuals: Improve their health and wellness, live a self-directed life, and strive to achieve their full potential. Our goal is to help more people recognize recovery is possible. Mental health and substance use disorders affect people of all ethnicities, ages, genders, geographic regions, and socioeconomic levels. They need to know that help is available. Whether facing alcoholism, opioids, heroin, cocaine, or painkiller addiction, we know that these individuals can get better, both physically and emotionally, with the support of a welcoming community.
Tempe Location
2600 E Southern Ave Suite E-1
Tempe, Arizona 85282
Office: (480) 409-0322
Glendale Location
5700 W Olive Ave, Suite 107
Glendale, AZ 85302
Office: (602) 4929595
Scottsdale Location
6565 E Greenway Parkway Suite 102,
Scottsdale, AZ 85254
Office: (602) 649-0677
Email: admin@corebellawellness.com