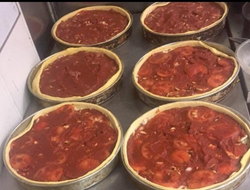 It might be difficult to believe, but customers can take an uncooked deep dish to-go and bake it at home for fresh pizza.
HOLLAND, Mich. (PRWEB) September 07, 2018
Crust 54, a Holland, MI, restaurant specializing in authentic Chicago-style pizza, officially launched The Pan Club, a take-and-bake deep dish pizza option (only available in 12-inch deep dish). "It might be difficult to believe, but customers can take an uncooked deep dish to-go and bake it at home for fresh pizza," said co-owner Debbie Klaus. "Then it can be eaten anytime or anywhere." Once the uncooked pan pizza is home, it can be baked immediately or frozen for later.
Crust 54 also now offers a 9-inch deep dish (that isn't gluten-free). It's perfect for two, great for a date night or people traveling who don't want leftovers.
Guests who join The Pan Club buy the pan--they own it--for $10. The Pan Club guest returns the pan, in which a new uncooked pizza will be prepared. The customer will receive $3 off each refill pizza. The Pan Club is an option for people who live out of town or are going out of town and want a fresh deep dish pizza to take with them to share with family or friends. "We've had guests take pizzas nationwide, including Philadelphia, New York and Arizona," Klaus said. "What we do is make the pizza, put the sauce on the side and Seran-wrap it. It's ready to bake and eat or freeze."
Guests warm the sauce in a saucepan or microwave, spread it on the pizza and bake for 30-40 minutes at 375 degrees--longer if the pizza is frozen. "I personally have tried it multiple times and it tastes great," Klaus said. "We also do unbaked thin crust pizzas."
In addition, Crust 54 recently announced their new pizza - the ultra-thin crust pizza. "Many people have been asking for pizza that is crispy or well done," Klaus said, "and the best way to get that desired crisp is for us to make our pizza crust thinner. The ultra-thin crust is easy to chew but still has that desired crunch and a great taste."
About Crust 54
Crust 54 specializes in savory, authentic Chicago-style pizza, and is known for its original Chicago-style deep dish pizza. They also offer gluten-free pizza crusts, appetizers and salads. Crust 54 has two Holland, MI, locations: 54 E. 8th Street downtown and 1145 South Washington Avenue, both of which offer outdoor seating, online ordering and Wi-Fi. For more information, please call the downtown location at (616) 394-3002, the South Washington location at (616) 848-7787, or visit http://www.crust54.com.
About the NALA™
The NALA offers small and medium-sized businesses effective ways to reach customers through new media. As a single-agency source, the NALA helps businesses flourish in their local community. The NALA's mission is to promote a business' relevant and newsworthy events and achievements, both online and through traditional media. The information and content in this article are not in conjunction with the views of the NALA. For media inquiries, please call 805.650.6121, ext. 361.