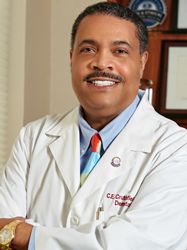 "I will never rush a patient who may face an unfavorable diagnosis. If I have to choose between compassion and keeping our schedule to the minute, we are going to run late." - Charles E. Crutchfield III, M.D.
EAGAN, Minn. (PRWEB) March 06, 2020
Whether replacing a furnace, installing new carpeting, or finding the best hotel for the next trip, chances are most people read online reviews to help make those selections. Online reviews are increasingly used to help find the best doctor, too. Studies show people benefit from learning about other people's experiences.
"That's why we are so proud Crutchfield Dermatology has received so many positive patient reviews," says Charles E. Crutchfield III, MD, Medical Director of Crutchfield Dermatology. "Having over 2,000 people take the time to recount their positive experience at our clinic is one of the greatest honors we could receive."
Dr. Crutchfield explains that, like any business, the clinic is "far from perfect." But it's the commitment to actively working on getting better every day that sets the clinic apart.
"When a review touches on an experience that is 'less than ideal' it gives us a chance to improve," Crutchfield explains.
The emergence of online reviews as a prominent information source for consumers comes with challenges. Online reviews for physicians and other professional industries have an inherent selection bias.
For example, many negative reviews will express dissatisfaction that a medical condition isn't cured when it's well-known there is no cure for the disease. In those cases, which are not the fault or responsibility of the physician, there is no way to satisfy the patient.
Likewise, businesses can take the blame for third-party actors. For instance, a patient may feel a medicine costs too much or be upset that their insurance does not cover it. Even though this is beyond the control of the doctor, the patient will attribute the problem to that clinic rather than the health plan denying payment or pharmaceutical company charging the high price.
With over 2,000 verified, positive reviews about the quality of Crutchfield Dermatology's services, are there any concerns expressed by patients about the clinic?
"Yes, of course," responds Clinic Manager, Tim Quesnell. "Like all clinics, patients don't like to wait."
Whether it stems from sensitivity to the value of time in an increasingly fast-paced world, or some other cause, medical clinics and other service businesses struggle to maximize access to their services while minimizing wait times.
"We work every day to improve the schedule," Quesnell says. "But medicine is not like the restaurant business. Things come up every clinic, and sometimes patients need extra attention."
Crutchfield adds, "I will never rush a patient who may face an unfavorable diagnosis. If I have to choose between compassion and keeping our schedule to the minute, we are going to run late. Most people who have to wait when those conditions arise realize that if they were ever in need of a little extra attention, we would give it to them, too."
But not all people look at commercial experiences with that level of empathy, which is why the 2K mark for positive reviews is so remarkable.
"Most people who have a great result or outcome go on with normal life. They go shopping with friends, run errands, and do other routine things that don't include writing a review," explains Darrin Rosha, a Minnesota attorney who works with clients on reputation issues. "People don't usually run to their computer to express how happy they are. Rather, the desire to vent about a negative experience is far more powerful."
Because so many patients have positively reviewed Crutchfield Dermatology, a remarkable occurrence in its own right, those reviews and word of mouth among professionals have resulted in over a thousand physicians sending patients Crutchfield Dermatology for dermatologic expertise and care. Although reviews and referrals reflect how Crutchfield Dermatology is a center of excellence and in high demand, there are aspects of the clinic that reviews don't show.
For instance, many dermatology clinics pass more and more of their patient contact and care to mid-level personnel. Dr. Crutchfield has refused to hire physician assistants or other midlevel providers: He insists on seeing, diagnosing, and treating his patients personally. This commitment to patient care has resulted in the premium care Dr. Crutchfield is known for and fiercely proud of.
"We know we are in demand, and that leads to access challenges. We tell patients if they have a time-sensitive schedule that will not allow them to wait if necessary, we are probably not the right practice for them, Crutchfield continues.
Quesnell adds, "But if a patient demands the highest quality care and the knowledge that they will be seen by a professor of dermatology and one of the best board-certified dermatologists in the country, Crutchfield Dermatology welcomes them with open arms."
It's easy to see why Crutchfield Dermatology is so proud to have received over 2,000 verified, authentic positive patient reviews located at http://www.CrutchfieldDermatologyReviews.com
About Charles E. Crutchfield III, M.D.:
Charles E. Crutchfield III, M.D. is a graduate of the Mayo Clinic Medical School and a Clinical Professor of Dermatology at the University of Minnesota Medical School. He currently is the Medical Director of Crutchfield Dermatology in Eagan, (serving the greater Minneapolis-St. Paul area), Minnesota. Dr. Crutchfield is an annual selection of the "Top Doctors" issue of Mpls. St. Paul magazine. He is the only dermatologist to have been selected as a "Best Doctor for Women" by Minnesota Monthly magazine since the inception of the survey. Dr. Crutchfield has been selected as one of the "Best Doctors in America," an honor awarded to only 4% of all practicing physicians. Dr. Crutchfield is the co-author of a children's book on sun protection and dermatology textbook. He is a member of the AΩA National Medical Honor Society, an expert consultant for WebMD and CNN, and a recipient of the Karis Humanitarian Award from the Mayo Clinic School of Medicine. Dr. Crutchfield was also given "first a physician" award, Healthcare Hero, 100 most influential healthcare leaders in Minnesota, and one of the Top 100 African –American Newsmakers in the United States by TheGrio, an affiliate of NBC News. https://en.wikipedia.org/wiki/Grio_Awards