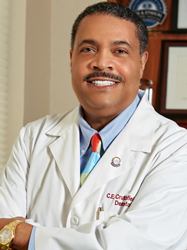 "We're able to put our patients in a comfortable and pleasant state of relaxation via the administration of ProNox "laughing-gas"," says Dr. Crutchfield. "The patients are entirely present; however, pain, anxiety, and discomfort become almost meaningless."
EAGAN, Minn. (PRWEB) February 10, 2020
"We're able to put our patients in a comfortable and pleasant state of relaxation via the administration of ProNox "laughing-gas"," says Dr. Crutchfield. "The patients are entirely present; however, pain, anxiety, and discomfort become almost meaningless."
Crutchfield Dermatology announced this week the addition of a new tool to help patients feel relaxed and comfortable during skin procedures. The new ProNox equipment is a nitrous oxide delivery system to reduce pain, discomfort, and anxiety. Nitrous oxide has been in everyday use in dental offices for decades and is commonly called 'laughing gas'. It has recently gained great popularity in labor and delivery rooms for a calming effect for expectant mothers during childbirth. The beauty of the ProNox system is that the nitrous oxide is self-administered by the patient. Patients can use it for in-office medical procedures as well as cosmetic procedures such as laser resurfacing and several other aesthetic treatments, including BOTOX, dermal fillers, Platelet-Rich plasma injections, and Kybella.
Nitrous oxide causes the release of dopamine and serotonin. It produces a rapid-onset yet temporary natural relief of anxiety and discomfort before and during a cosmetic or medical procedure.
Fear and anxiety can prevent a patient from scheduling treatments that they may really need or want to have done. With ProNox, these anxious patients can relax and have a near anxiety-free medical or cosmetic procedure with minimal side effects. They can also enjoy care almost entirely free of remembered pain." said Dr. Charles E. Crutchfield III, a board-certified dermatologist and medical director of Crutchfield Dermatology. "
About Charles E. Crutchfield III, MD:
Charles E. Crutchfield III, M.D. is a graduate of the Mayo Clinic Medical School and a Clinical Professor of Dermatology at the University of Minnesota Medical School. He currently is the Medical Director of Crutchfield Dermatology in Eagan, (serving the greater Minneapolis-St. Paul area), Minnesota. Dr. Crutchfield is an annual selection of the "Top Doctors" issue of Mpls. St. Paul magazine. He is the only dermatologist to have been selected as a "Best Doctor for Women" by Minnesota Monthly magazine since the inception of the survey. Dr. Crutchfield has been selected as one of the "Best Doctors in America," an honor awarded to only 4% of all practicing physicians. Dr. Crutchfield is the co-author of a children's book on sun protection and dermatology textbook. He is a member of the AΩA National Medical Honor Society, an expert consultant for WebMD and CNN, and a recipient of the Karis Humanitarian Award from the Mayo Clinic School of Medicine. Dr. Crutchfield was also given "first a physician" award, Healthcare Hero, 100 most influential, and one of the Top 100 African –American Newsmakers in the United States by TheGrio, an affiliate of NBC News. https://en.wikipedia.org/wiki/Grio_Awards