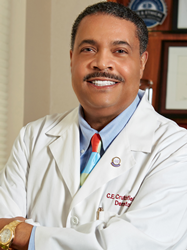 In these unprecedented times, we are fortunate to be able to help and feel honored to serve all those with dermatologic needs, including those who can't afford it." said Charles E. Crutchfield III, M.D., Medical Director of CrutchfieldDermatology.com
EAGAN, Minn. (PRWEB) April 07, 2020
During a pandemic, other human health issues don't disappear. In fact, if additional medical clinics close or have limited availability, patients suffering from many different medical ailments will be forced to take up valuable appointment spots in urgent care centers, emergency rooms, and even hospitals. That is why it is so essential to maintain a robust telemedicine capability to free up the burden and stress that could potentially burden those other healthcare facilities so they can focus on providing care for those who urgently need it.
At Crutchfield Dermatology, they have conducted hundreds of telemedicine (teledermatology) visits and are very comfortable seeing patients with virtual online visits. As a result, they have taken a national leadership position in telemedicine.
The schedulers at Crutchfield report excellent results as patients are happy to sign up for virtual online teledermatology visits. Patients love the ability to get their skincare needs addressed without having to go to urgent care. They can do so from the comfort, safety, and convenience of their own home. "Patients give the teledermatology visits very high ratings." Commented Ashely N., lead nursing staff member.
Minnesota Governor Walz recently wrote a letter jointly with the Commissioners of Health and Commerce, urging health plans in Minnesota to extend coverage for most Minnesotans to receive medical care remotely – known as "telemedicine." Other state leaders praised the effort as consistent with legislation aimed at expanding remote care. "Crutchfield Dermatology was ahead of the curve on this one and are seeing patients who need it, without charge," commented Tim Quesnell, Clinic General Manager.
When it comes to online virtual telemedicine visits, Crutchfield Dermatology is incredibly flexible. They utilize several telemedicine platforms including, but not limited to, Zoom, Skype, FaceTime, Google Duo, WhatsApp, GoToMeeting, Slack cell phones, and even emailed photos combined with landlines. As a result, Crutchfield Dermatology can now serve about 95% of all patients who need an online virtual dermatology appointment.
Another positive is that most skin conditions are very amenable to telemedicine. Dr. Crutchfield can see the problem right on the monitor. With the quality of most computer cameras and cell phones, the picture quality is outstanding. For the few visits where there is a suspicious lesion, the doctor can have the patients come into the clinic, with full safety precautions. In urgent cases, the clinic can handle acute medical needs, in-person, also. "In fact, we have detected several melanomas via teledermatology over the past few weeks," reports Dr. Crutchfield.
"In these unprecedented times, we are fortunate to be able to help and feel honored to serve all those with dermatologic needs, including those who can't afford it." said Charles E. Crutchfield III, M.D., Medical Director of CrutcheldDermatology.com
All they have to do is call our telemedicine coordinator, Kelly M., at 651 209 3628, and she will take it from there.
About Charles E. Crutchfield III, M.D.:
Charles E. Crutchfield III, M.D., is a graduate of the Mayo Clinic Medical School and a Clinical Professor of Dermatology at the University of Minnesota Medical School. He is currently the Medical Director of Crutchfield Dermatology in Eagan and is a Benedict Distinguished Professor of Biology at Carleton College. Dr. Crutchfield has won numerous teaching and professional awards and is the co-author of a children's book on sun protection a dermatology textbook and hundreds of medical articles. He is a member of the AΩA National Medical Honor Society, an expert consultant for WebMD and CNN, and a recipient of the Karis Humanitarian Award from the Mayo Clinic School of Medicine. Dr. Crutchfield has over 25 years of clinical experience serving patients.