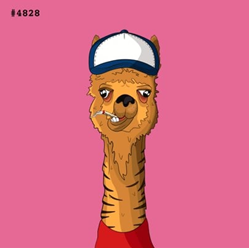 LOS ANGELES (PRWEB) October 15, 2021
Crypto Llamas NFT, the rising star of the NFT world, has recently launched the NFT's For Newbies Facebook group. NFT's For Newbies is the place where NFT beginners can learn the ins and outs of NFT's. This is the place where NFT beginners can learn everything there is about NFTs in a community of like-minded individuals that want to become experts in the NFT space. In this group, members will learn how to make, launch, sell and invest in NFT's.
NFT's For Newbies was created to help people earn and master the basics of NFT's. The group's goal is to provide value to the world of NFT. NFT's For Newbies is run by friendly and experienced admins that know many things about the NFT world. Here, members can find the latest NFT strategies and tactics. In this group, NFT growth and conversion hacks are being shared frequently. Members can also learn various NFT launch strategies from people that have already done that. NFT's For Newbies offers weekly live training sessions, live Q&A, and support.
Members of NFT's For Newbies will learn that in order to be successful in the NFT world, they need multiple things, and having the proper tools, tactics, strategies, and knowledge is just the first step. The next step is taking action. This group is for action takers and people who know that failure only brings a person one step closer to success. This group encourages interaction. Members should not be afraid to ask questions or ask for help. Admins and other members will quickly answer any question and will gladly offer their help. In this group, members are allowed to ask questions related to NFT's, Crypto, launching NFTs, marketing NFTs, business, metaverse, and entrepreneurship, to share their successes and failures, to share content that helps other members, and more. However, some things are not allowed or tolerated. Things like self-promotion, sharing of links that are not relevant or links that promote a personal product/service, promotion of MLM and Network Markets, live streaming in the group without permission, collecting emails in any way, spam. These things will not be tolerated and breaking them will result in a ban. Members are encouraged to be honest. Being rude to other members is forbidden. Bullying of any kind isn't allowed, and degrading comments about things like race, religion, culture, sexual orientation, gender, or identity will not be tolerated.
NFT's For Newbies is administered by Jeffery Banek, Russell Rabichev, and David Lopez. Jeffery Banek, aka The Funnel Doc, is a renowned marketer that specializes in sales funnels. Mr. Banek frequently live-streams on the group and talks about the latest news of the NFT world. He also gives tips and pieces of advice about NFT or crypto. In some of his past streams, he explained how people can buy their first NFT and Ethereum, how to set up a Metamask wallet, and how people can mint directly from https://cryptollamasnft.com/.
Mr. Rabichev is also an important NFT investor, creator, pioneer in the NFT ecosystem, digital marketer, and entrepreneur. Currently, his main focus is on the NFT world. As the visionary founder of Crypto Llamas NFT, Mr. Rabichev, is one of the leading NFT investors, owning and managing highly valuable bluechip NFTs Cryptopunks and Cryptokongz and many other NFT investment portfolios. He believes that NFTs are the next big thing that will shape the world and will play an important role in defining and trading new pieces of art.