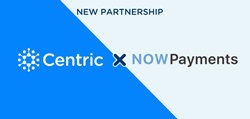 "It's exciting to see the growing number of real-world use-cases for Centric. NOWPayments is delighted to partner with the Centric Foundation in offering Centric Swap (CNS) integration to merchants across the globe."
LONDON (PRWEB) November 17, 2021
Tommy Butcher, COO of Centric announced NOWPayments has added Centric Swap (CNS) to its list of supported cryptos. According to the NOWPayments website, the company's mission is to "provide a crypto payment gateway that is easy to use and embed into existing websites."
NOWPayments offers plugins for Shopify, WooCommerce, Magento 2, OpenCart, Zen Cart, PrestaShop, WHMCS, and Shopware. With fees ranging from 0.4% to 0.5% (based on volume), NOWPayments states their fees are "the lowest on the market."
NOWPayments also provides merchants access to a cryptocurrency API (application programming interface) with instant payment notifications. According to their website, the API "simplifies customized integration of our crypto payment service into your website, platform, or mobile app."
The NOWPayments mass payments feature allows businesses to send rebates, commissions, and affiliate rewards in CNS. Companies wishing to provide employee compensation in Centric Swap can even use the mass payment feature to process payroll.
Tommy Butcher, COO of Centric said, "We've been working hard to expand the number of e-commerce integrations for Centric Swap, and we couldn't be more pleased to announce this new partnership with NOWPayments."
A spokesperson for NOWPayments said, "It's exciting to see the growing number of real-world use-cases for Centric. NOWPayments is delighted to partner with the Centric Foundation in offering Centric Swap (CNS) integration to merchants across the globe."
The NOWPayments website indicates the company assigns an account manager to each of their merchants. The account manager will "help you complete the integration, deal with the NOWPayments dashboard, and delve into the world of crypto."
Learn more about Centric - https://www.centric.com
Learn more about NOWPayments - https://nowpayments.io
To stay in the loop on all the latest developments with Centric, readers can follow Centric on Twitter and join the announcement channel on Telegram.
About Centric
Centric was conceived with the vision of one day replacing traditional fiat currencies. Blockchain technology will enable a more transparent world and we believe our innovative approach to achieving widespread adoption long-term sets Centric apart from other cryptocurrencies today.
We believe the largest obstacle to the mass adoption of cryptocurrencies is price volatility. Cryptocurrencies, unlike fiat currencies, do not have a central bank to implement monetary policy focused on stabilizing purchasing power. Thus, changes in demand induce massive price fluctuations. The decentralized model to price discovery has made most existing cryptocurrencies nothing more than stocks or commodities, valued on psychology, traded on unregulated stock markets, and susceptible to manipulation. The lack of price stability has prevented credit and debt markets from forming because volatility incurs a premium.
While the rest of the industry focuses on transaction throughput and smart contracts, we focus on solving price stability to realize the economic capabilities that the blockchain enables.
About NOWPayments
NOWPayments allows everyone to accept crypto payments on their websites, online stores, and social media accounts. It's a non-custodial service, meaning it doesn't hold or store your funds in any way. NOWPayments supports more than 50 cryptocurrencies, and it offers low transaction fees.
NOWPayments was founded in 2019, by the team behind ChangeNOW, a cryptocurrency exchange service. Our mission is to provide a crypto payment gateway that is easy to use and embed into existing websites. We believe everyone should have the chance to accept crypto payments or crypto donations for their e-commerce stores, charities or any type of business.
We provide a simple, easy-to-integrate service, and the only step needed to accept crypto payments is to copy a chunk of HTML code. Transactions are tied to your NOWPayments account and the API key you use for a specific purpose. We offer flexible solutions, like accepting payments in many different coins or converting all crypto assets you receive into your favorite cryptocurrency! The automatic exchange is powered by our crypto exchange service, ChangeNOW.