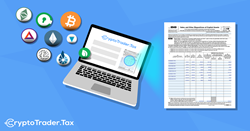 The market for professional cryptocurrency tax prep is exploding
KANSAS CITY, Mo. (PRWEB) November 25, 2019
CryptoTrader.Tax, a Missouri-based software development start-up, has announced the launch of the CryptoTrader.Tax Tax Professional Suite. This new product is specifically built to help tax firms, CPAs, and all tax professionals assist their clients with cryptocurrency tax reporting.
The Market for Cryptocurrency Tax Services is Exploding
In October of 2019, the IRS released a draft of the new 1040 Schedule 1 for the upcoming 2020 tax season. This is the main income tax form that gets filled out by every taxpayer in America, roughly 150 million. The IRS has updated this form to include a question about cryptocurrency to increase the tax enforcement of the asset. The new cryptocurrency tax question reads as follows:
"At any time during 2019, did you receive, sell, send, exchange, or otherwise acquire any financial interest in any virtual currency?"
Under penalty of perjury, 150 million taxpayers will have to check yes or no to this question. This new question on Form 1040 is fueling immense demand for cryptocurrency tax services, and it provides an enormous opportunity for tax professionals to make a lot of money servicing crypto clients. The IRS estimates that roughly 12 million tax returns should contain some form of cryptocurrency investment.
David Kemmerer, Co-Founder and CEO of CryptoTrader.Tax discusses what this means for CPAs and tax professionals: "The new question on 1040 means that all tax preparers must now ask their clients whether they have any cryptocurrency related activities during the year. That also means all tax preparers must be ready to handle cryptocurrency taxation for their clients. We're seeing that thousands of tax professionals are now looking for software tools to help them automate crypto tax reporting for their clients. We are excited to launch our crypto tax professional suite to provide a much needed solution for these professionals."
The Company:
CryptoTrader.Tax has thousands of users on its platform today and has processed over ten billion dollars of cryptocurrency transactions over the past two years. With this new tax professional suite, the company will begin to directly service tax firms, accounting practices, and CPA houses. The new software suite is completely free for tax professionals to use.
Key Benefits:
Auto Generate Required Crypto Tax Forms: The CryptoTrader.Tax Tax Professional Suite auto-generates the following forms:
IRS Form 8949
Short & Long Term Gains
Cryptocurrency Income
End of Year Holdings
Audit Trail
And More
Easily Import These Forms into Your Preferred Tax Filing Software: Best of all, the forms that CryptoTrader.Tax can be imported into the tax filing software services that tax professionals already use today such as ProConnect, Drake, ATX, UltraTax, and many more.
URL
https://www.cryptotrader.tax/crypto-tax-accountant-tool
Facebook URL
https://www.facebook.com/CryptoTrader.Tax
LinkedIn URL
https://www.linkedin.com/company/cryptotrader-tax/about/
Twitter Handle
@CryptoTraderTax