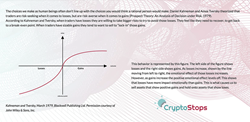 "CryptoStops is so confident in its concept and value that it is more than willing to let people under the hood and kick the tires," says CryptoStops Founder and President, Cameron Gall. "Nothing will convince them of its usefulness and value more than being able to use it."
SAN DIEGO (PRWEB) November 01, 2018
When it comes to cryptocurrency investing, the swings are big and the emotions are high. Fortunes are made and lost, sometimes in the same day.
With a marketplace as risky as this, precautions should be taken by crypto traders to minimize their losses, but many are not aware of the techniques savvy investors use to protect themselves in volatile markets. This can lead to crypto investors making big mistakes, including the dreaded "Buy high and sell low".
Enter CryptoStops™, a cryptocurrency investor's risk management system that helps crypto traders plan when to get out of a risky stock, and when to ride a rising one. CryptoStops' proprietary system helps remove emotion from the equation by alerting traders at preset prices that maximize value for the individual investor.
Too often, investors ride losing stocks in the hopes that they will "bounce back" and help them avoid a loss – which leads to bigger losses. Similarly, crypto traders often miss out on profits by selling before their stocks peak to "lock in" their earnings and protect against losses that may not come. CryptoStops™ uses a suite of tools to help cryptocurrency investors avoid those pitfalls and optimize their trades on Bitcoin, Litecoin, Ethereum and other assets available for trade.
CryptoStops™ announces their official launch date of November 1st, and to commemorate the product launch is offering a ten day free trial to early adopters. To enroll in the free trial, crypto investors should visit http://www.cryptostops.net to enroll.
"CryptoStops™ is so confident in its concept and value that it is more than willing to let people under the hood and kick the tires," says CryptoStops™ founder and president, Cameron Gall. "Nothing will convince them of its usefulness and value more than being able to use it."
CryptoStops™ Founder, Cameron Gall is available for interviews about the crypto investment service that brings Stop Loss risk management tools and twenty-four hours a day, seven days a week price monitoring to keep pace with the always-on trading cycle in the crypto investment world. To schedule an interview with Cameron, contact Lenora Lostaunau at Lenora.l@cryptostops.net.
About CryptoStops™:
CryptoStops, Inc. provides a subscription-based suite of stop-loss tools to plan and win more often when trading virtually any kind of cryptocurrency. Monthly and annual subscription plans are available. CryptoStops™ - what every crypto trader should know... but probably doesn't. More information on CryptoStops™ available at http://www.cryptostops.net.