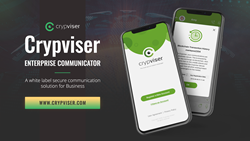 At this time, we are launching a unique, and the most secure solution for the B2B market, IoT and M2M industries, which is based on the time-proven and bulletproof Crypviser Network. said Vadim Andyan, CTO of Crypviser.
DUSSELDORF, Germany (PRWEB) March 14, 2020
Crypviser launches a brand new White-Label Enterprise solution for secure business communication — Crypviser Enterprise Communicator.
The new solution is targeted to corporate business customers to secure critical business communication networks and data exchange channels based on Crypviser Automated Encryption ("AE") and DPKI ("Decentralized Public-Key Infrastructure") model.
The Crypviser Enterprise Communicator offers several different deployment options, starting from an affordable easy to use Blockchain Cloud-based package to a more complex On-Premise Private Blockchain deployment with customized features development. All packages include White-Label branding and Virtual Private Network options.
The Crypviser Enterprise Communicator can be also integrated into IoT and M2M devices for encrypted data transmission and secure storage.