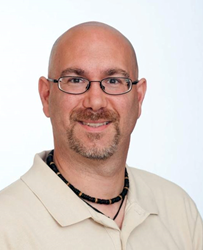 On my first visit as a college student I fell in love with Crystal Conference Center.
(PRWEB) February 20, 2019
Eric Strommer's relationship with Crystal Conference Center dates back to his Eastern Michigan University graduate school days when he was a member of the retreat centers summer staff. While Eric was building his career as an elementary school teacher and middle school STEM teacher in the Flint Community Schools, he often volunteered at Crystal Conference Centers summer youth camps as a counselor and medical officer.
Now that the Conference Center is available for groups outside of the church to book as event space and overnight lodging, Strommer will be sharing his passion for supporting group experiences at the place he has grown to love.
During the last 7 years, Strommer has been an integral part of Crystal Conference Center's staff. His responsibilities have included being the designated camp maintenance director and Adventure Course Director for the COPE (Challenging Outdoor Personal Experience) ropes course and climbing tower.
Strommer is one of the hearty souls who for years have been traveling to Crystal Conference Center on weekends to help out in any way possible. He has been a part of the group (Benzie Boys) who open camp in late April or early May and then close it down in early fall (as dictated by Northern Michigan weather).
"On my first visit as a college student I fell in love with Crystal Conference Center," Strommer explained, "I've looked forward ever since to being a part of the camps and groups making use of this beautiful location. I knew, when I joined the summer staff, that I wanted to be part of Crystal Conference Center and make it a successful and dynamic place because it is such an amazing place. I'm excited to be working with UCCR who have high expectations and experience in making all their properties successful."
Strommer was a Boy Scout leader for over 20 years and has volunteered at various summer camps in Michigan and Massachusetts.
A native of The Berkshires region of Massachusetts, Strommer his earned BA and MS degrees at Bethany College in West Virginia.
Visit Crystal Conference Center on the web at uccr.org/crystal or call 800-678.5102 to reserve a stay. For facility management services visit camppropertymanagement.org