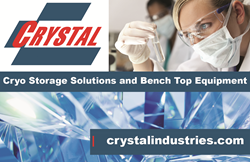 "I am thrilled to be joining Crystal at such an exciting and transformative time for the company and our customers," said Hurley. "The combination of new products and new paths to market hold immense opportunities."
ADDISON, Texas (PRWEB) December 21, 2020
Crystal Technology & Industries, a market leader in freezer racks, cryo-storage solutions and bench top equipment for the Bio-Science field, today announced the appointment of Linda Hurley as Executive Vice President of Marketing.
Linda will be responsible for strategic growth, direction and leadership for the company's continued growth in both cryo storage solutions and Crystal's introduction of new laboratory products featuring advanced technological solutions in the form of automated Western Blot machines, next generation incubator-shakers, and a revamped line of essential lab equipment.
"We have big plans for Crystal in 2021 and beyond and we are confident that Linda's experience will help us hit those goals," said Jimmy Wang, Crystal CEO.
Linda brings more than 20 years of expertise in managing strategic planning, sales growth, and business development in leading Bio-Science industry organizations to her new role at Crystal Tech.
Most recently, Hurley held the title of SVP of Sales & Marketing at Ricca Chemicals, a leading supplier to laboratories. Hurley played a crucial role in implementing strategic plans with top distributors and select partners to drive successive years of double-digit growth. Prior to her role at Ricca, Hurley spent six years at VWR as VP of Business Development achieving an increase of over $50 million in sales and 8 years at Thermo Fisher Scientific where in her last two years as VP of Marketing Life Science she oversaw general lab equipment increases of over 12% worldwide.
"I am thrilled to be joining Crystal at such an exciting and transformative time for the company and our customers," said Hurley. "The combination of new products and new paths to market hold immense opportunities."
About Crystal Technology & Industries
Crystal Technology & Industries Inc (CTI) is strategically located in Addison, Texas minutes away from the DFW International Airport. CTI is a rapidly growing company manufacturing instruments and supplies used in medical and scientific research. Our headquarters occupy 400,000 square feet of building space combining offices, manufacturing, R&D and warehouse fulfillment under one roof. We are committed to serving the research community with unmatched value and personalized service.
CTI's goal is to provide total customer satisfaction with our products. We are focused on building long-term relationships with our customers by providing unmatched service and product value.