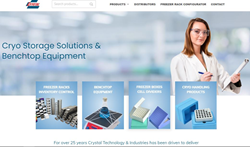 The new site features an enhanced version of our widely used Freezer Rack Configurator as well as product support via Text Messaging.
ADDISON, Texas (PRWEB) March 17, 2021
Crystal launches a ground-up redesign of our website aimed at providing our distributors with the information and tools needed to promote our Benchtop Equipment, Freezer Rack Storage solutions and Cryo-handling products.
Our industry leading Freezer Rack Configurator has been improved with updated lists of the newest Ultra Low Temperature Freezers, and new fields that allow searching by measurements alone and then utilizing drop down boxes to narrow down to your storage needs. Our distributors will appreciate the ease of incorporating this widely used tool into their own websites and display its recommendations using their own ordering information.
The new website provides easy access to our various internal support resources and allows for customers to address our product managers by text as well as phone and email. This addition of text support decreases wait time for timely answers to product use assistance and requests for additional information on our wide range of Cryo Handling and Freezer Rack Storage solutions.
The new look of our website will complement the many new products we have planned for 2021 including a new look for all of our products. Look for new control panel designs on our benchtop equipment featuring clean grey labels and high contrast easy to read controls. We hope that you will continue to watch our site and social channels for new product information and innovative solutions addressing the needs of today's Scientist.
About Crystal
For over 25 years Crystal Technology & Industries has been driven to deliver exceptional value to the scientific marketplace. Our engineers collaborate with top-tier research institutions to design & develop innovative Benchtop Equipment and Cryo Storage Solutions for today's Scientist. We are focused on building long-term relationships with our customers by providing unmatched service and product value.
We utilize the expertise and skill of more than 40 professional engineers in our R&D department who maintain close relationships with several major life-science research institutions and hospitals to incorporate leading edge technologies into our products and keep abreast with the latest needs and issues facing their labs.
Crystal's team of quality control personnel and failure analysis engineers continually improve our products to ensure we are delivering the highest standards to your lab.