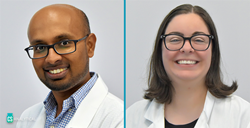 Both Ronak and Alanna have played critical roles in all aspects of client interaction and the management of the testing process
CLIFTON, N.J. (PRWEB) November 02, 2022
CS Analytical Laboratory, the world's only FDA regulated contract laboratory exclusively dedicated to providing regulatory solutions and qualification testing services specifically for drug product and medical device container systems, is pleased to announce the promotion of Ronak Patel to the position of Laboratory Manager – Analytical Chemistry and Alanna Johnson to the position of Laboratory Manager, Container Closure Integrity Testing. For Mr. Patel, this represents and expansion of his role within the CS Analytical and he will supervise all aspects of the container and package testing service offering to include USP and EP testing standards as well as a host of other critical qualification services. Ms. Johnson will assume responsibility for the management of the entire USP 1207 laboratory service offering from client interaction, project inception, method development and validation for all CCI testing programs. Both will continue to report directly to Chief Scientific Officer Brandon Zurawlow.
"Ronak and Alanna have been key team leaders for CS Analytical and these management promotions represent the hard work and dedication each has brought to the CS Analytical service offering. Both Ronak and Alanna have played critical roles in all aspects of client interaction and the management of the testing process and I look forward to working with each of them in these expanded roles," commented Brandon Zurawlow, CS Analytical CSO.
Ronak is a degreed chemist and holds an MBA degree with more than ten years of contract laboratory work experience. He is an expert on multiple analytical instruments and has a specialty specific to ICP testing for elemental impurities. Alanna has dedicated here career to USP 1207 Container Closure Integrity Testing and is an expert on all relevant USP testing methodologies for medical product package leak testing. Both bring multiple years of experience specific to container and package system testing.
About CS Analytical Laboratory
The only FDA regulated, cGMP laboratory dedicated exclusively to the complex world of drug and medical device container and package qualification testing, the CS Analytical Team includes the world's leading experts on all relevant USP and EP requirements and the thought leaders and pioneers on CCI (container closure integrity – CCI) testing. Offering a full suite of laboratory services to include all USP, EP and JP procedures specific to glass, plastic and elastomers as well as complete USP 1207 services that span basic feasibility studies, component qualification programs and advanced method development and validation for helium leak testing, vacuum decay, high voltage and headspace analysis leak testing. CS Analytical is the one source that can ensure your medical product container and package system meets the strict and complex regulatory requirements.