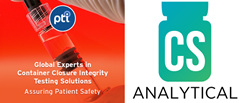 PTI leak testing instruments are a must have when it comes to meeting the demand for USP <1207> CCI testing
CLIFTON, N.J. (PRWEB) July 14, 2021
CS Analytical Laboratory, the world's only cGMP, FDA-registered and inspected contract laboratory exclusively designed and dedicated to container testing for the pharmaceutical, biotechnology, and medical device industries, is pleased to announce formal installation of the PTI - Packaging Technologies & Inspection suite of leak testing instruments. The array of technologies qualified for use include the SIMS 1915+ Helium Leak Detection System, the VeriPac 465 Vacuum Decay Leak Tester and the E-Scan 655 MicroCurrent High Voltage Leak Testing Instrument. Collectively these technologies enable testing of multiple package types to include vials, ampoules, syringes, blister cards, pouches, sealed trays and glass/plastic containers across the entire product life cycle and as directed under USP〈1207〉guidelines.
"I have had a multi-year working relationship with the PTI team and they continue to develop package system qualification technologies that enable FDA regulated clients to meet the strict regulatory guidelines now required," noted Brian Mulhall, CS Analytical Chief Executive Officer. "PTI leak testing instruments are a must have when it comes to meeting the demand for USP〈1207〉CCI testing."
Commented Noba Ebaid, Regional Sales Manager for PTI, "We are proud to partner with CS Analytical, a team that is without a doubt, comprised of some of the most well-rounded industry experts. Now equipped with an impressive portfolio of PTI's reliable, deterministic package quality testing solutions, the team at CS Analytical has bolstered their industry-leading knowledge with industry-leading CCIT equipment. Together, a common goal of caring for patients and consumers in need to enable a prosperous and healthy global community can be achieved by implementing sound engineering through good science."
The PTI instruments will play a critical role in the USP〈1207〉Container Closure Integrity testing services offered by CS Analytical. The ability to offer multiple technologies is critical in the leak test method prescription process. Critical elements such as product type and package configuration play a key role in determining the optimal method for a specific product system. With PTI offering a suite of technologies to include Helium Leak Detection, Vacuum Decay and MicroCurrent High Voltage (HVLDmc) options, CS Analytical can be assured of having the best option for a client's product and package system. In some cases, multiple methods may be applied further improving the overall quality profile of a given drug product container.
About CS Analytical Laboratory
The world's only cGMP, FDA-registered contract laboratory exclusively designed and dedicated to container testing for the pharmaceutical, biotechnology, and medical device industries, the CS Analytical Team includes world-leading experts and thought-leaders on FDA and EU regulatory expectations and USP and EP primary package testing requirements inclusive of container closure integrity (CCI) testing (CCIT). Test services include CCI method development, validation, and analysis, USP/EP/JP physical and physicochemical testing, and Comprehensive and Complementary services for all common or unique primary packaging components and systems inclusive of glass, plastic, elastomeric, and more. CS Analytical is the single source to ensure a regulated industry product-package system meets strict, complex, and ever-changing regulatory requirements.
About PTI - Packaging Technologies & Inspection
PTI is a global leader in package testing equipment. Headquartered in Hawthorne, New York, a Westchester County community close to New York City, we are a team of engineers, scientists and professionals serving the packaging industry as a leading equipment manufacturer of non-destructive package inspection equipment. PTI's management and R & D team focus has been on developing sensory inspection technologies for the packaging industry that perform with a high degree of precision and reliability, and simplify testing and validation processes in the pharmaceutical, medical device, food and container industries. PTI offers inspection systems for package leak testing, seal integrity and container closure integrity testing (CCIT). Our technologies exclude subjectivity from package testing and use test methods that conform to ASTM and other regulatory standards. PTI's inspection technologies are deterministic test methods that produce quantitative test result data. We specialize in offering the entire solution including test method development and equipment validation.