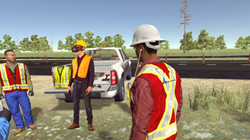 PEORIA, Ill. (PRWEB) March 20, 2019
CSE Software® Inc. is pleased to announce the development of a new virtual reality (VR) safety training module for Caterpillar Safety Services. Focused on paving applications, Cat® Safety VR teaches new employees how to interact with coworkers and identify hazards along a road construction jobsite, while in the safety of the virtual environment.
The number of accidents during roadside construction is well documented. Statistics are even higher for new and in-experienced workers. Specific training related to road construction hazards, the importance of following proper procedures and effective communication between workers can help to reduce accidents at the jobsite. The Caterpillar Safety Services group saw an opportunity to change the way training is conducted on construction sites with the use of VR technology.
The virtual scenarios are based on real world job tasks, duties and responsibilities. Scenarios are planned, designed and scripted, with input from subject matter experts. CSE's 3D programming team brings the scenes to life. Rigorous testing is conducted to ensure quality software and training. Products are validated with SME's and client specialists, and Product Support Analysts are available to help users and answer questions if needed.
Once the headset is on, the user is immersed in a virtual four-lane highway environment to receive instructions from the foreman. The user must follow instructions and make decisions throughout the five different training scenarios. Positive decisions are reinforced and negative decisions have consequences. When the user makes a mistake in the virtual environment, the results are not life threatening, as on an actual worksite.
CSE Vice President Renee Gorrell says, "Virtual Reality offers a huge change in the realm of safety training. Development has only the bounds of the imagination. Any industry, any scenario, and especially those dangerous in the real world, can be developed for an immersive training experience. VR can replace traditional training methods; keep users engaged longer and with a greater degree of knowledge retention."
The Cat® Safety VR training comes complete with everything needed to get started. Visit http://www.cat.com/VRsafety to find out more on the paving module.
Contactat 1.309.670.7595 for more information on developing VR training in any industry.
About CSE Software®
CSE Software™ Inc. specializes in custom developed software, mobile apps, AR/VR and simulation solutions for many industries, including heavy equipment, healthcare and education. As used herein, "CSE" or "CSE Software" means CSE Software Inc., an Illinois corporation. http://www.csesoftware.com
CAT, CATERPILLAR, LET'S DO THE WORK, their respective logos, "Caterpillar Yellow," the "Power Edge" and "Modern Hex" trade dress as well as corporate and product identity used herein, are trademarks of Caterpillar and may not be used without permission. http://www.cat.com / http://www.caterpillar.com