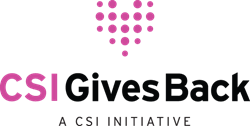 "We have a role beyond providing jobs and supporting our clients, and it's to help out in the communities we live," said Chris Flakus, Chief Operating Officer of The CSI Companies. "And now with our newly established 501(c)(3) and Becky leading the charge, we can accomplish so much more."
JACKSONVILLE, Fla. (PRWEB) January 09, 2019
After more than 13 years of supporting local charities, The CSI Companies has established its charitable giving division, CSI Gives Back, as a dedicated 501(c)(3) nonprofit organization.
The CSI Companies appointed Becky Lowry, CMP as the director of the newly created philanthropic foundation. Becky will lead community service initiatives supported by The CSI Companies and its staff, focused initially on Jacksonville and its surrounding communities. CSI Gives Back will expand into four other major metro areas where The CSI Companies has offices: Orlando, Tampa, Nashville, and Atlanta.
Recent efforts made by CSI Gives Back raised more than $6,000 for the American Lung Association at its Lung Force/Walk. The organization also raised more than $13,000 at its seventh annual charity auction benefitting Dreams Come True, a wish-granting organization dedicated to using the power of a dream to bring hope and joy to children battling a life threatening illness.
"We have a role beyond providing jobs and supporting our clients, and it's to help out in the communities we live," said Chris Flakus, Chief Operating Officer of The CSI Companies. "And now with our newly established 501(c)(3) and Becky leading the charge, we can accomplish so much more."
In 2018, CSI Gives Back raised more than $60,000 in support of organizations such Dreams Come True, American Lung Association, High School 9:12, Team HEAL, Habitat for Humanity, Hunger Fight, Rethreaded and more. To learn about CSI Gives Back and its initiatives, visit CSIGivesBack.org.
About The CSI Companies
Headquartered in Jacksonville, Fla., The CSI Companies provides national staffing solutions by placing top talent in the technology, financial, accounting, healthcare, and other professional industries across the country. In 2010, The CSI Companies became a part of Recruit Holdings Co., Ltd., the 5th largest staffing company in the world. To learn more about The CSI Companies, visit thecsicompanies.com.