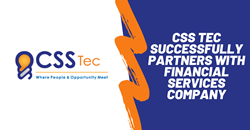 "This is just another great story of how CSS-Tec partnered with our Client during an urgent situation and delivered. It was a great team effort and we're very happy to have been able to help and exceed their expectations." added Lee Sokalsky, Managing Director, CSS-Tec
MEDIA, Pa. (PRWEB) January 28, 2020
CSS Tec, the IT Staffing business unit of Contemporary Staffing, delivers a team of Technical Analysts in support of urgent desktop remediation and support initiative at a key financial services client.
The client, a New Jersey based financial services company, provides leading financial solutions and services to hundreds of thousands of clients nationwide.
In December 2019, CSS Tec won and prioritized a project for an urgent, company-critical initiative for our client's Technology Infrastructure & Operations team. CSS Tec deployed a team of ten Technical Analysts to provide local desktop configuration and technical support for multiple critical changes that were to be deployed to over 3,000 workstations.
The CSS Tec team delivered the team of ten analysts in two days, all of whom had been fully vetted on skill and core competency. Additional compliance such as completed required background checks/clearance and onboarding requirements were quickly obtained so that the team was fully functional and engaged on Day 1 of the program. The CSS Tec team members assisted the client with the desktop configurations/upgrades and helped streamline the client's incident and problem management workflows and process consulting for the program.
"CSS Tec has been a long-standing partner for our client, supporting us across all aspects of Information Technology. They successfully staffed this role and exceeded the client's expectations by far. The teams here now know they can trust CSS Tec with any size project that comes their way!" says Andrea Micucio, MSP/VMS Manager of CSSvSource.
The Vice President of Technical Operations was so pleased with CSS Tec's ability to quickly deliver a quality team of resources for this project that he turned to CSS Tec to deliver a team of ten additional Technical Analysts in support of projects scheduled to be completed in 2020. Additionally, the original team of ten received extensions two weeks after the start of the project several months beyond the original contract duration.
"As a 22-year veteran at CSS, I am thrilled to see our recruiting team deliver high quality candidates in such a quick timeframe!" says Kay Odenwelder, Director of Recruiting, CSS Tec
If you are looking for quick delivery and deployment of technical resources in support of emergencies, project, and ongoing IT needs, please contact CSS Tec today at tec.info@contemporarystaffing.com
"This is just another great story of how CSS Tec partnered with our Client during an urgent situation and delivered. It was a great team effort and we're very happy to have been able to help and exceed their expectations." added Lee Sokalsky, Managing Director, CSS-Tec