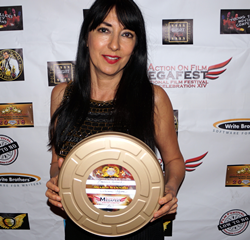 Our main goal was to increase awareness of the challenging experiences common to those at the juncture of age, sexuality, and race among the general public as well as among clinical and research-focused professionals in the medical and mental health fields. (Shayna Greenberg)
LOS ANGELES (PRWEB) December 30, 2020
The 2020 peer-reviewed article by Dr. Luciana Lagana, Ovsanna Balian, M.A., Marina Nakhla, M.A., Juan Zizumbo, M.A., and Shayna Greenberg, M.A. is titled: A preliminary model of health regarding sexual and ethnic minority older adults. Key findings of this research were presented as a poster at the 2020 virtual convention of the Western Psychological Association. The manuscript, published by the peer-reviewed journal "Culture, Health & Sexuality," is available at https://doi.org/10.1080/13691058.2019.1710566.
In this article, the authors examined the unique challenges and opportunities to overcome obstacles that confront those individuals existing at the intersection of older age, a sexual or gender minority identity, and a racial or ethnic minority identity. Key findings related to risk and protective factors in the domains of ones' social environment, physical environment, psychosocial attributes, and behavioral choices were discussed. A preliminary model of health was developed to consolidate the published literature in these areas and increase awareness of common experiences among older adults with a sexual or gender minority and racial or ethnic minority identity. Future directions for the field were identified and recommendations were made in order to guide future empirical testing of the preliminary model.
This publication is an example of the merging of the two lines of research of Dr. Lagana's lab, namely geriatric physical and mental health, funded by NIH, and the utilization of her original anti-discrimination feature documentaries in randomized controlled trials to positively impact film audiences in regard to increasing empathy and decreasing homophobia, racism, ageism, and other prejudicial attitudes.
Shayna Greenberg, M.A. is currently a first-year Ph.D. student in the Loma Linda Clinical Psychology Program. She is the lab coordinator and lead research assistant of Dr. Lagana. As a Master's student in the CSUN Clinical Psychology program, she developed a thesis that built upon core demographic features discussed within this 2020 article, namely older age and sexual or gender minority identities. Building upon the foundational review conducted for this article, she worked closely with Dr. Lagana and led the editing process to help her develop a documentary film on the experiences of older, sexual and gender minority adults experiencing homelessness. The film was administered to research participants in a randomized controlled trial in order to ascertain whether viewing a narrative-based documentary film would influence emerging adults' endorsement of ageism, homophobia, and empathy. Pilot results revealed significant improvements in attitudes towards older adults and trends towards improvements in empathy concerning the target population.
In sharing her experience with the present research, Greenberg stated, "I am grateful to have had the opportunity to work with Dr. Lagana and my fellow co-authors to explore the published literature and gain a better understanding of the present challenges and opportunities linked with navigating the world while holding multiple intersecting identities. In writing this article, we focused on consolidating the insights gained by reviewing the published literature into an accessible and user-friendly model of health. Our main goal was to increase awareness of the challenging experiences common to those at the juncture of age, sexuality, and race among the general public as well as among clinical and research-focused professionals in the medical and mental health fields. I hope that the information discussed will also highlight gaps in the field, serve as a foundation for future research in this area, and offer a framework for developing interventions that will better support these individuals and their communities. I am enthusiastic to have had the opportunity to explore a possible avenue for making meaningful changes through the film-based work of my experimental thesis. I am also excited to continue working with the team of Dr. Lagana to expand our literature review findings by engaging in empirical efforts that will incorporate greater focus on people of color and especially on Black and Indigenous populations, as research in this area of study is lacking on these minorities. I hope that the clinical application of the content of this article will benefit the health of those affected by significant and systemic adversities."
Ovsanna Balian, the second author of this article, obtained her M.A. in Clinical Psychology at CSUN, where she worked as a research assistant and lab coordinator in the research lab of Dr. Lagana. "This article covers the possible literature gaps regarding older LGBTQ adults, in addition to discussing how intersectionality could potentially influence these individuals' experiences concerning the interplay of older age, sexuality, and race. My hope is that interested researchers will conduct additional studies on the different experiences of older LGBTQ adults in regard to their mental health in particular. Research is needed on how to better assist this population, who goes through multiple adversities and challenges," shared Balian.
Marina Nakhla, M.A., was a research assistant of Dr. Lagana as a CSUN undergraduate student; she is also a co-author of this article. She is presently attending SDSU/UC San Diego Joint Doctoral Program where she is pursuing a Ph.D. in Clinical Psychology. "This study adds to the literature in terms of the intersectionality between race/ethnicity, sexual orientation, and age. This intersectionality research is much needed in the field of psychology, as more and more research has recently focused efforts on mental health disparities and discrimination serving as a risk factor for mental illnesses," concluded Nakhla.
Dr. Luciana Lagana has multiple doctoral and post-doctoral degrees and specializations in experimental and clinical psychology. For over 20 years, she has been an established full-time CSUN professor of Psychology, Women's Health, Gerontology, and Sexuality. Since 2002, she has been conducting NIH-funded research on ethnically diverse, mainly low-income older women's physical, psychological, social, and sexual health. Dr. Lagana has accumulated 46 peer-reviewed publications and has delivered over 120 conference presentations. She won the 2017 CSUN Exceptional Creative Accomplishments Faculty Award for her anti-bias feature films and shows, as well as the 2011 Preeminent Scholarly Publications Faculty Award and the 2008 Visionary Community Service Learning Faculty Award. Concerning her artistic pursuits, she was a child performer (singing, dancing, acting, and modeling) and was part of a touring theatrical company in her late teens in Italy. She also studied acting, hosting, and filmmaking in Los Angeles where, after studying film production at CSUN in 2013 under the mentorship of Prof. Nate Thomas (the Director of the Film Production Option in the CSUN Department of Cinema and Television Arts), she started creating, hosting, directing, and producing several social impact films and series. She is an actor/host/screenwriter/director/producer with over 30 film festivals' wins listed on IMDb and more than 50 IMDb credits for hosting or acting in independent films, TV shows, and web series.